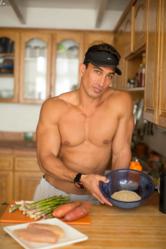 My fitness career is a byproduct of my lifestyle... There are no shortcuts.
Los Angeles, CA (PRWEB) December 12, 2012
While many people dream of having a six-pack of shredded abs, the thought of hitting the gym to get them can be daunting. But with his new Shredded Abs App celebrity trainer and fitness cover model Diego Sebastian hopes to prove that anybody can have shredded abs if they're willing to work hard.
Available this holiday season Diego Sebastian's Shredded Abs App presents users with step-by-step HD video fitness and nutrition instructions and a no nonsense approach to getting shredded abs. The Shredded Abs App is designed for anybody willing to work hard from fitness novices to experienced fitness fanatics. Diego Sebastian's no nonsense approach to shredded abs emphasizes hard work because as he says, "there are no shortcuts."
"My fitness career is a byproduct of my lifestyle. I never thought I'd be a fitness model," says Sebastian on how he never set out to become an international icon. Sebastian had actually hoped to be a firefighter but was told repeatedly that he was too skinny and would never make the cut. Unfazed, Sebastian embarked on a personal journey to work out as hard as he could so that he could pass the infamously grueling physical test to secure a coveted position as a Los Angeles Firefighter.
Once "gym fever" hit Sebastian he never turned back. In 1990, Sebastian made the commitment to follow a dedicated fitness lifestyle and started studying the "Workout Bible" and "The Arnold Schwarzenegger Encyclopedia of Modern Bodybuilding" in his quest to transform himself from a 6-foot-3, 165-pound skinny college sophomore to a 205-pound Adonis.
Sebastian became a certified trainer after studying Kinesiology at California State University Northridge, where he developed his credo: "Train hard, eat right, and get your rest." Sebastian recommends following an organic diet with homeopathic and herbal supplementation. "I enjoy sharing my fitness lifestyle with the world," says Sebastian, and with the Shredded Abs App that's exactly what he's doing by taking users directly into the gym with him.
Diego Sebastian's Shredded Abs App will be available this holiday season and features in depth HD video instructions that put a world-renowned personal trainer inside of a smartphone.