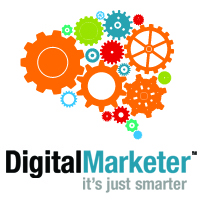 Information like this is available for instant access on the Digital Marketer blog.
Austin, TX (PRWEB) February 09, 2013
Digital Marketer, the industry leading information and content company, has published the latest blog post with advice on building website growth with guest bloggers. Written by Ryan Deiss, founder and CEO of Digital Marketer, the post shares tips on attracting and leveraging other content producers to develop more writers, more posts, and more readership.
Deiss starts with his basic ideas behind content marketing, writing that it "sounds really sophisticated and polished, but what most of these writers are really recommending is, essentially… promoting your blog. Simply put, content marketing means posting free, high-quality content that brings users to your site… so you can market to them."
The process works both ways, as marketing companies can both recruit other writers for their own blogs, or offer to write for others themselves. "Guest blogging opens up your blog to new perspectives, new writing styles, and new traffic. And let's face it, we all want more traffic on our blogs," Deiss said in the post.
Information like this is available for instant access on the Digital Marketer blog, where the best of the best online marketing gurus share their ideas on trends and news flowing through the Internet. It's part of DM's continuing efforts to keep marketers across the globe up to date on what's affecting their business on every landscape.
Digital Marketer's blog is available to anyone, but becoming a member of DM Pro gains access to information-packed monthly digital newsletters from the brightest minds in the industry, as well as a collection of Special Reports on how to combine marketing with major Internet players like Apple, Amazon, Google, and YouTube. A DM Labs membership takes things a step further, with split test results, website reviews, and of course access to RAW Trainings that are available anytime from any online device after their live events.
Digital Marketer releases informational and educational materials to help businesses and entrepreneurs gain insight and information on the trends, data, and strategies that can take them to the top of their industry. Through their RAW Training courses, strategic plans, blogs, newsletters, site reviews, and Special Reports, Digital Marketer supercharges every single marketing campaign it touches. For more information, visit DigitalMarketer.com.