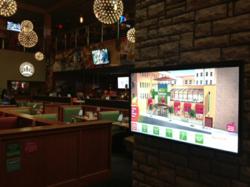 Ankeny, Iowa (PRWEB) April 10, 2013
QA Graphics, Iowa interactive design firm, is pleased to announce that they will be exhibiting again at the National Restaurant Association Show in Chicago to share their creative design capabilities with the food-service and hospitality industry.
QA Graphics is returning to the 2013 National Restaurant Show which is expected to attract over 58,000 industry pros from more than 100 countries to view world-class innovations, new products and services, creative ideas and other growth opportunities across the restaurant and hospitality industry. The NRA Show will take place May 18-21 at McCormick Place convention center in Chicago, Illinois. Attendees can visit QA Graphics' booth #5653 to view examples of how the company can provide custom solutions to enhance the marketing and sales efforts of those in the restaurant and hospitality industry.
QA Graphics provides a number of solutions specifically for restaurants, quick serve restaurants, convenience stores, grocery stores, retail outlets, hotels, vendors and distributors within the restaurant and hospitality industry. At the show, they will introduce examples of cutting-edge interactive sales tools that allow vendors and distributors to provide greater visualization of their extensive product lines. These are solutions help streamline purchasing decisions, while reducing inventory needs and making the sales process more efficient. QA Graphics will also demonstrate creative marketing solutions including interactive nutritional kiosks, digital menu boards, hospitality dashboards, 3d design and animation, mobile applications and other custom solutions.
QA Graphics also works with organizations that are building sustainable restaurants, or are working to make their existing locations more energy efficient. QA Graphics' award-winning Energy Efficiency Education Dashboard® is an educational application that customers can interact with via touchscreens or kiosks, the web, and mobile devices to view how efficient a restaurant is and to learn more about the sustainable initiatives in place.
To learn more about QA Graphics' creative design capabilities and custom solutions that can benefit those in the restaurant and hospitality industry, contact 515.965.3403.
About QA Graphics
QA Graphics is an Iowa-based creative design company specializing in interactive applications, 3D design and animation, mobile app development and other multimedia. The company is also a leader in the building automation and green building industries, providing HVAC graphic development services and energy dashboards to help organizations educate occupants about building performance and sustainability.