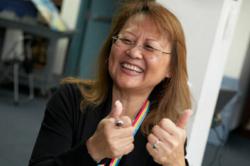 I know how to use DISC from developing employees to training managers to facilitating team-buildings.
San Diego, CA (PRWEB) May 08, 2013
At the DISC certification program on July 25 & 26, DISCcert will demonstrate how to use practical DISC tools for accomplishing multiple organizational objectives.
DISC certification materials will include DISC best practices for:

Teambuilding sessions
Management skill programs
Sales trainings
The DISC certification program supplies DISC resources for:
Executive coaching
Customer service
Performance development
Attendees of this interactive DISC certification will gain 18 practical ways to use DISC. These applications have proved to help all types of organizations.
Miss Burn, DISCcert master trainer says, "A DISC certified graduate shared how they are now using DISC from developing employees to training managers to facilitating team-buildings. The positive impact is being felt throughout their whole company."
This DISC certification program is designed for the busy trainer and HR professional, who wants to use DISC, but does not have the time to develop PPTs, learning activities or handouts. The program additionally includes one-on-one DISC coaching, automated weekly DISC tips and access to over 200 training resources. In this two day, DISC train the trainer, attendees learn how to use practical tools so they can gain confidence in delivering DISC to all levels in their organization.
About Bonnie Burn
Bonnie Burn, is a 30 year master corporate trainer and author of Assessment A to Z; Jossey-Bass Publishing. Her expansive experience covers the private, academic, non-profit and government sectors. As a national sales trainer and advertising training manager, Miss Burn knows that effective training serves to empower people. As a result, the practical perspective she gained as a professional DISC expert and corporate trainer in DISC, led her to design a comprehensive DISC certification program. Her facilitative, highly interactive training style, coupled with her proven DISC techniques and tools has led to over 300 DISC certified trainer graduates.
Bonnie Burn
Tel. +1 855.459.6648 (Toll Free)
Fax +1 858.461.6142
http://www.DISCcert.com