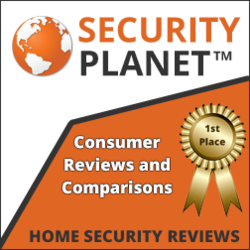 Visit SecurityPlanet.com to view the latest information on home security systems and home monitoring services.
Seattle, WA (PRWEB) June 10, 2013
SecurityPlanet.com has taught thousands of shoppers on what to look for when selecting a home security monitoring company. Homeowners that are considering a DIY home alarm system can compare the options and services of the nation's top rated security system providers online at SecurityPlanet.com. SecurityPlanet.com travels countrywide to perform in-depth reviews and analysis of the top alarm system providers nationally and in each state. Rating each security system provider includes reviewing and ranking them according to their customer support and business ratings together with equipment, technology and warranty information.
Gavin Anders from Security Planet states, "The SecurityPlanet.com staff has several rankings for the best overall home security company as well as the best professionally installed and best DIY installation. The reason for this is that consumers are different and some prefer to install the home security system themselves while others prefer to have someone else install it for them. Installing a home security system has become a very easy process and it takes less than 10 minutes from start to finish. All of the components are wireless which makes it much easier than in the past."
FrontPoint Security was awarded as the best DIY home alarm system provider. FrontPoint Security provides their customers with easy to install home security equipment from GE Security and a typical installation takes less than 10 minutes to complete. FrontPoint Security is one of the only home security companies in the market that offers 100% cellular monitoring services with a 30-day money back guarantee. They have maintained an excellent rating with customers and the Better Business Bureau.
Mobile features are a big reason why homeowners select a company like FrontPoint Security. In addition to FrontPoint Security's 24x7 monitoring for fire, intrusion and high levels of carbon monoxide the security system can be remotely armed/disarmed from an iPhone or an Android device. Customers have the ability to setup email or text message notifications should someone open the front door or come in through the garage. Finally, consumers can stream video from a wireless home security camera directly to their smartphone. To learn more about the features from the leading home security system companies, please visit SecurityPlanet.com at:
SecurityPlanet.com - Best Home Alarm Systems
About SecurityPlanet.com
SecurityPlanet.com is the leading home security systems reviews providers that focuses on supplying the most up to date and useful information to homeowners that are thinking about purchasing a home security system. SecurityPlanet.com provides side by side comparisons in an simple to use format so shoppers can quickly get the data they are searching for. Focusing on providing 3rd party reviews and side by side comparisons, SecurityPlanet.com also releases informative advice related to home security and safety to help families lead a healthier and more secure lifestyle. Visit SecurityPlanet.com for more information on the leading home security alarm system companies.