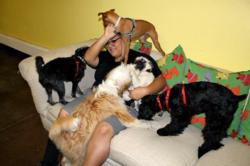 The dogs we care for are like the owner's children, so it's more than taking care of a pet; it's like taking care of a family member.
San Francisco, CA (PRWEB) October 22, 2011
The Grateful Dog is the San Francisco dog daycare, training, and boarding facility everyone is wagging their tail about. Next month will mark its second year in the Marina District, where Carina Simms started as a dog handler and is now leader of the pack as a manager at the Grateful Dog.
Although her mother was an infrequent breeder of Lhasa Apsos in the Central Valley town of Merced, Carina never imagined herself making a career in the canine arts. But all of that experience walking dogs around the ring in competitions as she followed her mother to dog shows all over the state, and even the country, made her a natural.
"Carina has developed her natural affinity for dogs and humans to a high degree," said General Manager Sharon Carr. "Her quiet approach to personnel issues is calming and respectful, as is her demeanor with the dogs. She creates a calm port when the seas get stormy."
Carina says she was comfortable with small dogs when she started at the Grateful Dog, and she had to get used to caring for larger dogs. In retrospect, however, she realizes that every dog—no matter what size—is unique. What works for one dog doesn't necessarily work for the next.
"Every dog is different, so even though I've taken care of dozens of dogs since we opened, caring for each one requires getting to know them on a personal level," said Carina.
"The dogs we care for are like the owner's children, so it's more than taking care of a pet; it's like taking care of a family member. We spend from one to five minutes talking to the owners when they drop their pet off, and give them a verbal report on what happened during the day when they pick them up."
Each canine guest of the Grateful Dog receives playtime with a handler, one-on-one time with a trainer, mini-massages, outdoor time in the fenced potty area complete with "doggy turf" and about 45 minutes of walk time in the park once or twice a day.
Between 10 am and 4 pm, either Carina or a trusted dog walker takes the dogs for walks to Fort Mason or the Moscone Recreational Center on Chestnut and Laguna. Canine guests can also receive baths between 10 am and 4 pm. The dogs also have down time twice a day, when the lights are dimmed and they are allowed to just hang out.
Carina is taking a dog behavior and training class from Trish King, director of behavior and training at the Marin Humane Society. "I am very excited to continue with my career in dog care," said Carina. "My goal right now is to help the Grateful Dog realize its full potential while I continue my behavior training."
For more information about the Grateful Dog, call (415) 529-4842 or visit the San Francisco dog boarding and daycare center on the web at http://www.sanfranciscodogdaycare.com.
About the Grateful Dog Doggy PlayCare and Wellness Center
The Grateful Dog Doggy PlayCare and Wellness Center is a San Francisco dog and puppy daycare center that specializes in puppy and dog training and playtime for all breeds and ages of canines. The Grateful Dog accommodates seniors and dogs with special needs, and offers weekend boarding and daycare. In conjunction with daycare service, the Grateful Dog provides the best San Francisco dog walker services to keep their furry clients fit and stimulated.
# # #