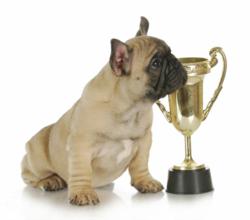 The Best Dog Treat nominees are made from the highest quality, most nutritional ingredients, are sourced in the USA and, of course, are delicious!
Boca Raton, FL (PRWEB) December 12, 2012
As part of a larger initiative to educate dog owners on proper nutrition, effective training, and other ways to raise a happy and healthy dog, the Dogington Post reviewed products, toys, food, treats and trainers for their first annual Dogington Post Awards of 2012.
Three companies or products will be nominated in each of several categories including Best Canned Food, Best Dry Food, Best Organic Food, Best Raw Food, Best Treat, Best National Pet Store, Best Toy, Best Dog Trainer, Best Rescue, and more.
This week, the nominees for the Best Dog Treat category were announced via the website and Dogington Post's Facebook and Twitter pages. The site uses a panel of 25 volunteer dog taste-testers. All nominated treats were approved by most - and even one of the nominated treats was approved by every single dog.
"We're using strict criteria when nominating companies and products for these awards," said Brandy Arnold, Content Editor for Dogington Post. "The Best Dog Treat nominees are made from the highest quality, most nutritional ingredients, are sourced and manufactured in the USA and, of course, are delicious!"
"Additionally," Brandy said, "we gave special consideration to businesses that give back to the community in some way, either through donations that improve the lives of dogs, through educating dog owners on proper nutrition, or by providing treats that fill a gap in the industry, such as those for dogs with allergies or sensitive tummies."
One of Dogington Post's Best Dog Treat nominees is a lamb lung treat that contains no grains or glutens, no artificial preservatives or flavors, is GMO free and low in carbohydrates. What's more, these treats are made with proteins sourced from the United States and raised naturally on sustainable family farms. Best of all, every one of the Dogington Post's four-legged taste-testers love them.
Another Best Dog Treat nominee is a wholesome, USA made, wheat-free treat for pups with food sensitivities from a company that pledges to donate at least 10% of their net profits to organizations that benefit animals, children, women, and the environment.
The third Best Treat nominee is a healthy and safe alternative to scary jerky treats from China. Made in the USA of locally sourced ingredients, these meaty treats were a huge hit with the Dogington Post's panel of taste-testing dogs. In addition, the company is committed to making a difference for pets and the planet, using 100% green power in their offices and donating a portion of their profits to benefit the families of dogs and cats with cancer.
Rounding out the Dogington Post Awards Best Dog Treat nominees is a favorite among the site's panel of tasters - all natural and 100% American-made lamb sausage links from a Rockford, Illinois company with over 160 years of expertise in the meat industry.
Dogington Post reaches over 2.5 million dog lovers each week. The site's readers will be asked to vote for their choice of the three nominees to win the Dogington Post Award in the Best Dog Treat category.
Award winners will be announced after every category's nominees have been announced and all votes are cast. Winners will be chosen by a combination of fan votes and committee and announced in January 2013. Winners will receive the Dogington Post Top Dog Seal of Approval, massive social media recognition and a press release by Dogington Post announcing their award.
For more information about Dogington Post and their Dogington Post Awards, visit http://dogingtonpost.com.
About Dogington Post:
DogingtonPost.com was created for the love of dogs. It promises a forum of informative articles, newsworthy dog stories, health and breed information, and heartwarming videos. The site addresses current issues affecting dogs and their human parents – from serious health concerns to lifestyle issues on feeding, grooming and the overall well-being and mental health of dogs. It is the Internet newspaper, all about dogs.