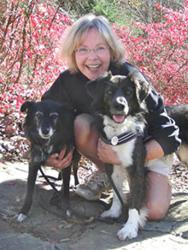 Each time we visit an industry event or talk to dog parents, we see more and more green products and talk to more environmentally conscious consumers.
Boca Raton, FL (PRWEB) June 20, 2013
As part of a larger initiative to educate pet parents on how to have the healthiest and happiest dogs and promote the importance of responsible dog parenting, The Dogington Post and Merrick Pet Care have teamed up to create "Merrick Pet Care's Dogington University," a series of eight live online seminars presented by top animal health experts, which began June 6th and continues throughout the month of June. A full schedule is available at http://dogingtonpost.com.
On Thursday, June 20 at 6:00PM EST, Leslie May will present a live, free, one-hour seminar to readers and fans of the Dogington Post on the topic of living a healthier and more environmentally friendly life.
Raise a Green Dog, with authors Leslie May and Johann The Dog, began in November 2007 and quickly became a very popular blog that has grown over the years into a complete website, with educational pages, tips, tricks and product information to help dog lovers learn more about being green and helping their dog live a healthier, happier life. Their mission is to help other dog lovers learn how they can have a healthier pup and environment by sharing information about their own green, organic lifestyle through articles, and the products and services they find that that they would welcome into their green life.
Founder Leslie May grew up in a green and organic family, before being green was popular. After adopting Johann as a puppy from a no-kill animal shelter in the Indianapolis area in September of 2004, she wanted to be sure that he was not only safe from the environmental dangers that he may encounter in his life, she also wanted eco-friendly, healthy and safe products for him to eat, play with, sleep in, and be and live around, inside and out.
Leslie May (with an occasional bark from Johann The Dog) will discuss a wide variety of ideas about how you can help your dog be more green and healthy, and help the environment at the same time. From healthier lawn care to composting dog waste, cleaning your home for a healthier dog to how to select dog friendly and eco-friendly products for your dog and your home and much more. Leslie and Johann will be talking for about 30 minutes and take 30 minutes to answer questions from the audience.
"Each time we visit an industry event or talk to dog parents, we see more and more green products and talk to more environmentally conscious consumers," said Brandy Arnold, Content Editor for Dogington Post, "so the experience Leslie will bring us is a perfect fit for our Dogington University health series and for our audience in general. We are thrilled to have her join us and Merrick Pet Care in our mission to positively impact the lives of dogs."
The Dogington Post shares with Merrick Pet Care, a company recognized for the highest quality standards in the pet food industry and Dogington University sponsor, a common goal of improving the lives of dogs and their families through proper nutrition, education, training and responsible pet ownership. Anyone can register for Leslie May's online seminar for free at https://www3.gotomeeting.com/register/783993518.
"Merrick Pet Care is excited to continue our partnership with Dogington University and its series of webinars from many well-respected veterinarians and pet health experts," said Pete Brace, Vice President, Merrick Pet Care. "These series continue to offer great information and tips to pet parents that can benefit canines everywhere."
Veterinarians and other health experts also presenting as part of the series include the highly respected veterinarian and nutritionist, Dr. Ernie Ward and veterinarian, Dr. Shawn Messonnier.
Other Panelists include the creator of the Tellington Method, Linda Tellington-Jones; award-winning author and senior dog advocate, Jennifer Kachnic; Dr. Doug Kenney, an expert on pet health insurance; Author John Clifton; and "The Pet Safety Guy" Thom Somes.
For a full schedule of the Merrick Pet Care's Dogington University Dog Training Seminars, visit http://dogingtonpost.com.
About Dogington Post:
http://DogingtonPost.com was created for the love of dogs. It promises a forum of informative articles, newsworthy dog stories, health and breed information, and heartwarming videos. The site addresses current issues affecting dogs and their human parents – from serious health concerns to lifestyle issues on feeding, grooming and the overall well-being and mental health of dogs. It is the Internet newspaper, all about dogs.
About Merrick Pet Care Inc.:
Founded in 1968, Amarillo-based Merrick Pet Care Inc. is a leader in the natural and organic pet food category. With a mission to create the most nutritious and wholesome food, Merrick helps families take better care of their pets by cooking up nutritious, real whole foods for pets. All foods are made in the USA using only the freshest ingredients grown by local farmers. The company offers a wide variety of dry and wet foods, as well as treats, that are available nationally at independent pet specialty stores, Petco and online via select retailers at http://www.merrickpetcare.com.