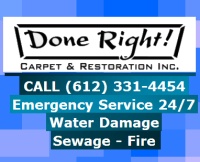 We're experts with 20 years of experience in clean up and we're with you every step of the way to make sure the job has been done right.
Spring Lake Park, MN (PRWEB) October 13, 2012
Done Right Carpet and Restoration recently celebrated its 20th year of helping home and business owners get their lives back on track after water, fire and storm damage. Done Right is a full service cleaning company that offers a number of services including water damage clean up, air duct cleaning and rental equipment.
In celebration of 20 years, Done Right Carpet Restoration is now offering Carpet Cleaning Specials for any size Residential or Commercial carpet cleaning project.

$50 off 0-1200 Square Feet
$100 off 1200-3000 Square Feet
$200 off 3000 Square Feet and Over
Whether it's a busted pipe, a severe storm, or a flood; water damage is a huge headache. Done Right Water Damage Restoration offers a number of solutions to fix the problem at hand. For sewer damage or busted pipes, Done right has the equipment to remove the sewage, as well as disinfectants, chemicals, and training to make the affected area safe once again. Right away Done Right sends a project manager on site to determine how best to minimize damage to the property; saving the home owner thousands of dollars in losses and future repairs due to improper cleaning and drying. If the homeowner can clean the mess up themselves, Done Right offers top-of-the line Dehumidifier and Fan equipment rentals. Whether it's a small area to be cleaned up or homeowners want to do the job themselves Done Right offers state-of-the-art equipment to clean up any water damage.
No one can prepare for a fire. It can happen at any time and cause an extraordinary amount of damage to personal property and a home. Done Rights has all the equipment needed to deal with odor removal, air scrubbing, water extraction, commercial dehumidifiers, air movers and much more.
In today's air-tight homes, indoor air quality is a growing concern. Most household dust contains mites, mold, mildew, pollen and animal dander. Many of these contaminants are circulated through the central air systems in most homes and can aggravate the symptoms of asthma and allergies. Done Right professionals have combined their proven techniques with the video-assisted Rotobrush aiR+® air duct cleaning system. This advanced cleaning method is the only one available that brushes and vacuums at the point of contact, eliminating the use of harsh chemicals such as sealers. Home and business owners can have the assurance of fresh, clean and virtually contaminant-free air in their home and office.
Done Right also offers carpet cleaning for any home or office. They do both wet extraction or truck-powered steam cleaning which is recommended by the world's largest manufacturer such as Shaw and Mohawk. These carpet-cleaning services dry quickly. By using "high flow & high recovery" equipment, carpets can be dry in a 24 hour period, or sooner depending on the soiling of the carpets. Lightly stained or soiled carpets dry within 2-6 hours completely.
Done Right Carpet and Restoration is located in Spring Lake Park, MN off of Central Avenue and Hwy 10. For a full list of services please visit their website donerightcarpetrestoration.com