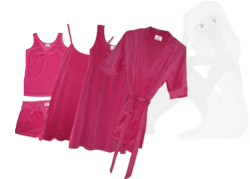 Thank you, thank you, thank you!! I don't know what I would have done without my Dry Babe gown. It was so roomy and comfortable – perfect for breastfeeding. Even better, the gown did absorb my night sweats and I was able to sleep.
New York, NY (PRWEB) April 23, 2013
Millions of women in the U.S. regularly lose sleep due to night sweats (Nocturnal Hydrosis). The average woman will experience chronic night sweats due to pregnancy, postpartum, hormonal changes, illness and medication. Lack of sleep has recently been implicated in a number of serious health concerns including weight gain, premature aging, memory loss, and increased risk of illness.
Dry Babe's absorbent wicking sleepwear for women provides an all natural absorbent solution, providing comfort and relief from night sweats and hot flashes leading to naturally deep and uninterrupted sleep.
Before Dry Babe® came on the market, there had been no sure-fire, all natural night sweat relief solution to address – or dress! - the problem. Now Dry Babe has taken this all natural relief a step further.
Fresh from the success of the initial launch of the Sweet Dreams Collection, Dry Babe® has now added a specially developed chemise to the line. The chemise has been styled to meet the needs of pregnant and postpartum women while also maintaining its appeal to women of all ages.
The chemise is sleek and pretty, lightweight and comfortable, with additional easy nursing access for postpartum moms. It is the perfect night gown to take to the hospital when mom delivers and a greatly appreciated baby shower and Mother's Day gift.
Dry Babe® delivers the sleep all moms deserve by saying goodbye to sleep stealing night sweats with this all natural night sweat solution.
Dry Babe® Absorbent Sleepwear for "Hot" Mamas absorbs night sweats, bringing a cool and dry sleep solution for moms of all ages at http://www.drybabe.com.
Dry Babe® Absorbent Sleepwear for Hot Mamas. Functional & pretty night sweat sleepwear for women. Because night sweats are nothing to lose sleep over.
http://facebook.com/#!/drybabe
https://twitter.com/DryBabe
Media Contact
Wendy Collett
516 510-9744
http://www.drybabe.com