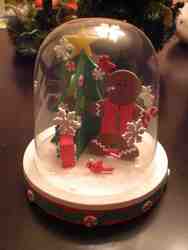 I love gathering everyone around the table to create something beautiful...
Boone, NC (PRWEB) December 3, 2010
Looking for easy Christmas crafts for kids of all ages that are fun, beautiful and not too messy? Christmas crafts expert Kris Stevenson has timely, engaging and helpful advice.
Easy Christmas crafts are a great way to get festive this holiday season. It is hard to knock something that decorates the home, keeps the kids entertained, and does not cost an arm and a leg.
As Kris Stevenson, editor of AboutChristmasCrafts.com explains, "I love gathering everyone around the table to create something beautiful. Instead of disappearing into our respective rooms and offices with the latest computer gadgetry, we spend quality time together creating easy Christmas crafts, or my favorite, edible Christmas crafts, to give as Christmas gifts."
But what about people who are "craft-challenged" or those who feel that coming up with Christmas craft ideas is simply daunting?
"Check out the numerous ideas on our site if you're having problems coming up with great Christmas craft ideas for everyone in your family," says Stevenson.
Some recent suggestions include:

Edible Christmas crafts to give as gifts.
Christmas ornaments crafts to decorate the tree.
Easy Christmas crafts to use throughout the house.
Pamper Mom (or yourself!) with these homemade Christmas gift ideas.
Christmas crafts for kids to decorate the home.
For hundreds of additional Christmas craft ideas, visit Stevenson's website at AboutChristmasCrafts.com.
About AboutChristmasCrafts.com
AboutChristmasCrafts.com is a free informational website dedicated to helping people create beautiful, fun and easy Christmas crafts -- Christmas crafts projects that everyone will be proud to give as gifts or use to decorate the home.
###