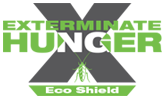 Giving should be simple. We collect food from our families, customers, and neighbors and give it those who need it the most. Simple.
Phoenix, Arizona (PRWEB) December 10, 2012
Eco Shield Pest Control announced today the start of a new community outreach program called Exterminate Hunger at http://www.exterminatehunger.com. Exterminate Hunger was created to bring additional focus on the growing issues of child hunger in America and to provide a means for Eco Shield Pest Control, it owners, employees and customers to deliver needed food to children and adults in the communities it serves.
Given Americas standing as the wealthiest nation, the numbers on hunger in America are shocking. Hunger is a reality for one in six people in the US. As Eco Shield Pest Control has operations in over eight States including a dozen major metropolitan cities and areas, the owners and employees see the effects of hard-working adults, seniors and children who go with meals. Exterminate Hunger is Eco Shield's response to help those who have fallen on hard times.
To date, Eco Shield has 10 office locations to drop off food, and has built a fleet of 65 dedicated food collection vehicles with over 200 participating employees. The goal of Exterminate Hunger is to create a simple way for all interested parties to help exterminate hunger in their communities. Individuals can get involved by dropping off non perishable items at a local Eco Shield Pest Control Office. Office locations can be found at Eco Shield's Exterminate Hunger website at http://www.exterminatehunger.com/#contact. Alternatively, individuals can request a pick up through Eco Shields Exterminate Hunger food collection vehicle service.
As the Christmas holiday season approaches, Eco Shield and Exterminate hunger are making a broad appeal to their location base for non perishable food donations. Canned food or dried food can be dropped off during business hours or left in a marked box at the door front. Donations are aggregated and then move to distribution centers such as food banks.
About Eco Shield Pest Control
Eco Shield Pest Control specialize in the customized delivery of home pest control services for over the past ten years in the United States. Having started as a small regional business in Phoenix Arizona, it quickly expanded into selected areas with its door to door sales operations focusing on pest control diagnosis and prescription. Currently Eco Shield Pest Control operates in nine states and has an "A" rating with the Better Business Bureau.