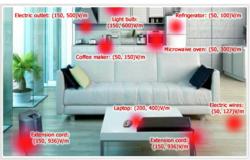 Celebrate World Environment Day and EMF Radiation Protection Awareness with AdrProVita.
Baltimore, MD (PRWEB) June 06, 2013
Technological development in our world directly constantly effects society and the environment. With World Environment Day just around the corner AdrProVita.com invites everybody to celebrate the beauty of the world humans live in by increasing awareness about electromagnetic radiation protection.
People may or may not be fully aware that electromagnetic radiation is present around the house, office and surroundings. As technology advances globally, the risk for EMF exposure and EMF side effect also increase. World Health Organization (WHO) is clearly recognizing this growing problem. Recently they started a campaign that focuses on studying EMF radiation and side effects of man made electromagnetic radiation on people. The International EMF Project serves to conduct more research studies about EMF radiation, its main sources and ways to prevent it from causing health hazards. The International EMF Project likely still has a long way to go in terms of reaching to their final conclusion. Their research studies might be an ongoing basis. But one thing is clear, EMF radiation is real and it is a growing problem globally that people need to be aware of.
Research, education and awareness about this growing problem and how it affects the environment and loved ones, is just beginning. That is why individual personal research on radiation protection products that are available now is also important in efforts to better safeguard family's health. EMF radiation is a relatively new concept to most people. But because of the world's rapid technological advances powered by electricity and wireless networks, man made residual electromagnetic radiation is becoming a fast growing problem. Nevertheless, preventive measures are always better than actual cures. So, before residential and office EMF radiation is completely understood, awareness and protection against its negative consequences must be undertaken.
Imagine a world without the harmful influence of EMF radiation. Life without the negative effects of electromagnetic radiation causing headaches, migraines, sleep disorders, chronic fatigue, exhaustion and hormonal disorders. These are just a few symptoms associated with the exposure to artificial (man made) electromagnetic radiation. The necessity for finding integrated solutions that take into account the health aspects has been recognized by the World Health Organization (WHO) and other international institutions. Following this path, AdrProVita provides a simple but unique solution, "protective shield" against the electromagnetic radiation. This shield utilizes the same process which the human body uses to absorb radiation in order to weaken its intensity. AdrProVita's EMF protection products provide the uniquely reliable solution that prevents the negative influences of EMF radiation. For more information about EMF protection products visit http://www.adrprovita.com.