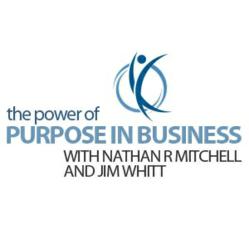 The benefits of understanding motivators in the workplace include reduced turnover, enormous cost savings, and improved satisfaction for employees and customers alike.

-Nathan R Mitchell MBA, CPBA, CPMA
Tulsa, OK (PRWEB) February 20, 2013
What motivates employees to sell, manage, service, and connect with customers the way they do? How can you place the right people in the right jobs and motivate them to achieve more for your business?
According to Tulsa Business Coach, Nathan R Mitchell, it all starts with individual values. In other words, the underlying motivators, which cause a person to want to perform well.
On Wednesday, March 6th, 2013 at 1:30 PM CST, "The Power of Purpose in Business," co-founded by Nathan R Mitchell and Jim Whitt, will be hosting a complimentary webinar titled "What Motivates You Really? Understanding the Importance of Values."
"Individual values can differ greatly from person to person," says Mitchell. "When we consider a person's experiences, education, skill-sets, and training, we know WHAT they can do. When we look at each person's behaviors, we know HOW they do it. When it comes to what motivates people individually, we must look at WHY they do what they do. And that all starts with an increased understanding of workplace motivators and values."
Mitchell, who is also the founder of the Tulsa Business Coaching company, Clutch Consulting, has been consulting with businesses and professionals since 2010. He has certifications in both Behaviors and Motivators analysis.
"With an increased understanding of the importance of motivators, we can become more effective managers and leaders by encouraging employees in a way that satisfies them." adds Whitt. "And that's just one benefit. Identifying the values of individuals on your team reduces conflict, increases employee retention, improves overall productivity, and energizes employees to work together toward organizational goals."
Whitt, who is also the founder of the business consulting company, Purpose Unlimited, has been working with organizations since 1988. He is a "Professional People Provoker," and the author of three books, including "Riding for the Brand: The Power of Purposeful Leadership," "The Transformational Power of Purpose," and "Road Signs for Success."
Mitchell and Whitt will be conducting additional webinars in the weeks ahead on Behaviors, Emotional Quotient (EQ), and Growth Curve Analysis.
"These webinars are driving a lot of value for area businesses," says Mitchell. "So far the feedback we've received has been overwhelmingly positive."
These webinars are yet another way Jim and Nathan continue to fulfill their purposes of empowering and helping others reach their full potential.
To register for the upcoming webinar, "What Motivates You Really? Understanding the Importance of Values," visit the following link. This webinar is limited to the first 50 who register.