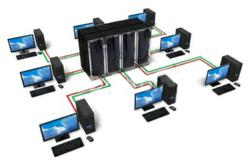 As a therapist, they are able to shave minutes on each patient visit whether it'll be 5 or 10. It could mean the difference in seeing one additional patient per day, five per week, and 260 additional office visits per year.
Denville, NJ (PRWEB) February 17, 2013
"The latest in physical therapy documentation is called electronic medical records (EMR). Technology and innovation is now making its way how physical therapy offices run, operate, record, and maintain information. However, with the "paper" system as the cornerstone of each medical office, will this allow offices and patient care run as efficiently? If your practice will be switching to EMR, the answer is, yes!" said Nitin Chhoda.
According to him, there has been a nationwide initiative underway for some time; to automate and streamline medical records. Whether this will be a mandate under Obamacare or not remains to be seen. However, with electronic medical records, it will increase productivity and provide ease nationwide of patients. Investment in an electronic medical record system will be nominal, with the offset of benefit. Chhoda, as physical therapy marketing expert, reveals the power of EMR by looking carefully how this system will have major impacts on physical therapy offices:
Cost. Dealing with current patients and documenting visits in the traditional way is a time-consuming and labor intensive practice. Time is the most valuable commodity a therapist has. "As a therapist, they are able to shave minutes on each patient visit whether it'll be 5 or 10. It could mean the difference in seeing one additional patient per day, five per week, and 260 additional office visits per year. That is a significant adjustment to the bottom line," Chhoda added.
Compliance. Just like anything in regards to medical, therapists undergo stringent compliance and audit requirements. Whether dealing in insurance issues, litigious issues, or compliance, an electronic medical record system will prove itself as being vital. When it comes to keeping of accurate concise notes, insurance information, post-payment audit information, insurance funds, information and its safekeeping will never be an issue.
Care. According to Chhoda, therapists' patient care includes the relationship and history of a patient which is critical. Often relationships with patients, knowing their history, risk factors, prescriptions, billing, and scheduling can be done in a simple touch of screen. No more relying on memory, notes, and transcription of conversation. Electronic medical record system will allow for histories and future care to easily and efficiently be recorded.
Location. The power behind electronic medical record system allows the patient and therapist the ability to connect anywhere in the world on matters of care and health. It allows the sharing of information and real time care when a patient needs it the most. This sharing of information can be a powerful profit tool for therapists and other providers.
Loss. The last major factor in EMR system is the avoidance of loss. Just like data on home computers where the user back up videos, documents, records, pictures, and music, therapists will have the same backup system. In the event of a practice being sold, moved, retirement, or death, the records will maintain their safety during these turbulent events, ensuring patient security and therapists' easy and convenient access.
Times are changing, technology is changing, and the system of a therapist's office is changing as well. Electronic medical records, is a system of today. It allows for so many benefits for a growing practice. It offers profitability, security, information, and a feeling of total patient care.
Chhoda's office can be reached by phone at 201-535-4475. For more information, visit the website at http://www.emrnews.com.
ABOUT NITIN CHHODA
Nitin Chhoda PT, DPT is a licensed physical therapist, a certified strength and conditioning specialist and an entrepreneur. He is the author of "Physical Therapy Marketing For The New Economy" and "Marketing for Physical Therapy Clinics" and is a prolific speaker, writer and creator of products and systems to streamline medical billing and coding, electronic medical records, health care practice management and marketing to increase referrals. He has been featured in numerous industry magazines, major radio and broadcast media, and is the founder of Referral Ignition training systems and the annual Private Practice Summit. Chhoda speaks extensively throughout the U.S., Canada and Asia. He is also the creator of the Therapy Newsletter and Clinical Contact, both web-based services to help private practices improve communication with patients, delivery better quality of care and boost patient retention.