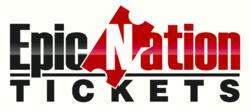 Epic Nation Tickets will also be the best source for low priced NBA playoff tickets.
Raleigh, NC (PRWEB) April 05, 2013
There are fewer than 10 NBA games remaining in the regular season. Epic Nation Tickets is offering cheap discounted tickets to all NBA games for the remainder of the regular season and the upcoming playoffs. There is still tons of high quality basketball and NBA playoff races still ongoing which will produce great games.
The Eastern Conference playoff race is all but over. Seven of the eight playoff sports are secure. The Milwaukee Bucks have a pretty sizable lead over the Philadelpha 76ers for the 8th and final playoff spot. Tickets to see the Miami Heat and New York Knicks have been the hardest ticket to get of all NBA tickets this season. Epic Nation Tickets has a large selection of low priced tickets to see both teams. Once playoff matchups are determined, Epic Nation Tickets will offer the cheapest NBA playoff tickets.
The Western Conference of the NBA still has many teams fighting for playoff berths. NBA living legend Kobe Bryant is trying to get his Los Angeles Lakers into the NBA playoffs. As of now the Lakers are clinging to the 8th spot with the Utah Jazz and Dallas Mavericks hot on their heels. Epic Nation Tickets offers the best opportunity to secure cheap NBA tickets to all of these remaining games where the basketball is certain to be great with so much on the line.
Epic Nation Tickets offers the cheapest and largest inventory of tickets to see concerts, sports, Broadway shows and Las Vegas acts.