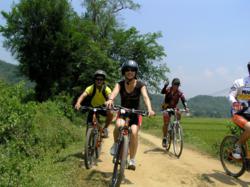 Bangkok, Thailand (PRWEB) February 13, 2013
Exotissimo offers a range of bike tours in Asia from half day excursions through cities to multi-day adventures across countries. Working with large groups, families and independent travelers, Exo provides all the necessary equipment and support for a memorable journey by bike in Asia.
Southern Thailand is renowned for its islands and lush tropical national parks. Exotissimo are now offering a new 7 day itinerary, 'Biking in South of Thailand', that reveals the stunning terrain of Khao Sok and Krabi and visits to Phuket and Koh Yao Noi islands. An excellent way to learn about local practices in the region such as fishing and fruit production with the chance to sample many culinary delights.
Exotissimo also works with a number of organizations in support of responsible tourism practices which have a positive effect on local communities. Their new 'Battambang Countryside Bike Tour' in Cambodia is organized by Soksabike, a local social enterprise. This itinerary has received excellent feedback from travelers who experience a guided tour into nearby villages, try their hand at making rice paper, cook local foods and even try weaving. The trip also shows many traditional aspects of Battambang including joining monks on an early morning alms walk.
For those looking for a Myanmar bike tour, Exo offers an array of options. The 7 day 'Bike and Trek in the Shan Hills' is a superb journey on bike and on foot visiting areas such as Inle Lake to see local Intha people at work, the Buddha image filled caves of Pindaya and remote hilltribe villages.
'Splendors of Northern Laos Biking Tour' is ideal for those travelers wanting an adventurous Laos bike tour, with up to 190km covered in a single day (though Exo provide a back up vehicle at all times). The 5 day journey passes through striking forests in the protected Nam Ha region and frequents morning markets that attract an array of ethnic groups including Hmong, Mien, Lolo and Yunnanese providing a greater understanding of Northern Laos and neighboring countries.
About Exotissimo Travel
Exotissimo Travel is a premier destination management company that specializes in tailor made tours in Vietnam, Cambodia, Laos, Myanmar, Thailand, Indonesia, Japan and China. Established in 1993, the company is now a network of 20 locally-based offices staffing over 600 travel professionals, with sales offices in France, UK/Ireland, Germany, Spain, Australia, US and Brazil. For more information, please visit: http://www.exotissimo.com