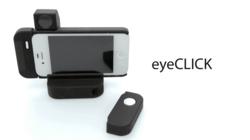 "I have been getting a lot of feedback about wanting more colors so I decided to give that option for a case and add it to the new rewards, I am certain that these will help push me over the top," said Wu
Charlotte, NC (PRWEB) June 30, 2012
eyeClick is a camera remote accessory for the iPhone that lets you take photos and videos of friends and family without being forced to shoot at "arms length." The product is currently attracting backers on the popular funding site Kickstarter.
The creator of eyeClick, David Wu, has created more colors in addition to an initial all black case. Backers of the project can now pre-order a limited edition Kickstarter green and black, as well as white, blue and gray cases.
"From the beginning, I have wanted to create more color variations of the case," said Wu. "I have been getting a lot of requests for more colors, so I decided to give the option for a case and add it to the new rewards. I am certain that these will help me reach my funding goal."
In addition to sleek new colors, six new rewards have been added to the funding campaign. These new rewards range in price from $55 to $175 and include the eyeClick case, along with incentives such as getting your name engraved on the case to receiving a tripod to go along with it.
With the $65 reward, users also get an HD lens attachment. iPhone 4/4Ss have both front and rear facing cameras, but only the back camera shoots in HD. With the HD lens attachment, the back camera is redirected to the front, allowing users to take pictures and videos in HD.
The eyeClick Kickstarter campaign officially ends July 29. For more information, visit http://bit.ly/eyeClickKS.
About eyeCLICK
The eyeCLICK is a simple camera remote accessory for iPhone 4/4S that enables you to take photos and videos of friends and family without being confined to an "arms length" distance. By pairing a remote control and HD lens with the phone, it frees you from the usual limitations associated with taking photos and videos.