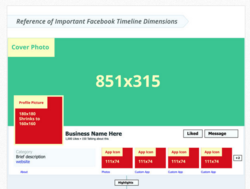 Reno, Nev. (PRWEB) December 19, 2012
ShortStack, a self-service custom app design tool, has created an easy-to-follow visual reference for Facebook's most important Timeline dimensions. The guide includes the cover photo, profile picture, app icons, highlighted posts, regular posts, and additional Facebook Timeline image guides. Find the complete cheat sheet for Facebook Timeline Dimensions here.
Facebook's Timeline layout features an 815x351 pixel Cover Photo image that introduces the visitor to the brand. In addition to the Cover Photo, Page admins can also customize the Profile Pictures, app thumbnails and more. ShortStack's reference guide provides the pixel size, inside tips and a map of the image locations on Timeline. ShortStack also created a downloadable Photoshop file that is 100 percent customizable. Page admins can use it to plan their Timeline photos. Download the Facebook Timeline Cover Photo Template here.
ShortStack is designed to help everyone - from small business owners to big-name agencies - create custom apps that harness the power of social media to connect brands with their audiences. Currently, ShortStack has more than 170,000 users across 184 countries. The platform integrates with online giants including Instagram, Pinterest, MailChimp, HighRise, Constant Contact and more.
The technology company has been in the app building industry since 2010 and has positioned itself as an industry leader with expert columns, social media guides, and eBooks. ShortStack's CEO, Jim Belosic, has been featured on popular news sites including Mashable, PR Daily and SmartBrief, and has guest posted for other social media experts including Mari Smith, Amy Porterfield, Andrea Vahl, Jon Loomer, and others.
About ShortStack
ShortStack is a self-service custom app design tool with features that include contests and sweepstakes, newsletter signup forms and integrations with YouTube, Twitter, RSS and more. ShortStack apps can be installed wherever – to Facebook, websites and blogs, and they're even viewable on mobile devices. To learn more about ShortStack, visit http://www.shortstack.com.