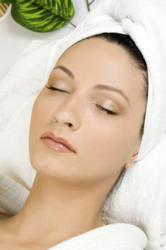 If you're ready to get serious about your skin, then it's time to get to the "Skin Gym."
Williamsville, NY (PRWEB) May 16, 2013
Face Fitness Skin Care in Williamsville is now offering skin care coaching with, "The Skin Gym." This new coaching program provides customers with the opportunity to learn about what is best for their skin.
Face Fitness Skin Care provides the means, expertise, motivation, and atmosphere that enable people to achieve healthy skin. "It's not about feeling good," says Kathy Morell, clinical esthetician at Face Fitness Skin Care, "but about looking and feeling your best."
The staff at Face Fitness Skin Care knows their stuff! With advanced training and International certifications in Cosmetic Chemistry and Advanced Skin Analysis, they are the experts when it comes time for a skin care coach. A skin care coach works with clients to promote healthy skin and by developing a personalized skin regimen and treatment plan, they can help get the results clients are looking for.
"We work with professional, pharmaceutical grade products to ensure optimal treatment of skin conditions" states Morell. Unlike over-the-counter products, professional products are made in small batches with high levels of active ingredients without colors, dyes, or fragrances. Clinical/corrective products are pH balanced to the skin for better penetration and are a great value for the price.
OTC products may smell good and promise results, but fail to deliver a customized formula that's just right for a client's particular skin needs. "Your skin care coach will recommend only products that are appropriate for your skin and that will get results," states Michelle Giamberdino, owner and innovator of the skin gym concept.
For clients over 30 that are tired of still suffering with breakouts, or with skin that looks tired, dull and devitalized, it is most likely an issue of neglecting skin. With all the products available on the market it's easy to be unsure about what's right for skin. It's time to get to the "Skin Gym" at Face Fitness Skin Care.
A skin care coach will give clients the low-down on how to slow down the visible signs of aging, banish acne breakouts, and get a customized approach to get skin into the best shape ever, no matter what stage of life the client is in.
Call Face Fitness Skin Care today to make an appointment, (716)631-0964.
About the company:
With more than 25 years experience, the Face Fitness Skin Care professionals have cocktailed the finest ingredients from all of their skin care lines to create the best signature treatments available with visible results. Their goal is to educate customers about their specific needs and customize a treatment plan to achieve healthy, beautiful skin. Face Fitness Skin Care's estheticians will recommend facial peels best suited to their customer's unique needs at the time of their appointment. For more information visit their website at http://www.facefitnessltd.com or visit them on Facebook at http://www.facebook.com/facefitness.