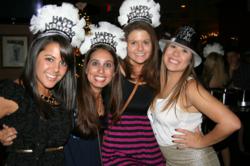 Atlanta, GA (PRWEB) December 06, 2012
Each year,Fadó Irish Pub and Restaurant located in the center of Buckhead, at 273 Buckhead Avenue, holds a fun, yet affordable New Years celebration. And once again Fadó is offering a 3 course pre-fixe menu and an early start as we ring in the Irish New Year with our friends back home at 7pm with a complimentary champagne toast. $10 cover starts at 9pm, $20 cover starts at 10pm which gives you access to the best New Year's party in Atlanta, party favors and a fantastic balloon drop at midnight.
Every year, we toast the Irish New Year at 7pm with our friends back home. Then the official Fadó Irish Pub New Years Eve party starts at 9pm. The cost of the Fadó New Year's Eve bash is $10 and includes party favors and a balloon drop at Midnight to help ring in the new year the proper way! Fado invites everyone to take advantage of the New Year's Eve package to help make this Atlanta New Years Eve, cheap, fun, and affordable.
The DJ will start playing at 10pm taking us into the New Year playing all of our Pub favorites. Fado also offers a full menu so people can taste the traditional Irish recipes (all made from scratch) that Fadó has to offer. Also, be sure to enjoy an ice cold beer from the wide selection of beers available, all poured from the state-of-the-art draught system that sets Fado apart from any other bar or pub
Fadó Irish Pub & Restaurant (pronounced "f'doe") is distinguished by its genuine Irish hospitality, quality and craic (pronounced "crack", a uniquely Irish form of fun). Don't miss out on this New Year's Eve event, come down to Fadó Irish Pub for ol, ceol agus craic galore!
About Fado Irish Pub
The original Atlanta Fadó opened in January 1996 at the corner of Peachtree Road and Buckhead Avenue and became an instant hit with the people of Atlanta. The original Fadó closed on 20 October 2007 to help make way for a new development in Buckhead- the Streets of Buckhead. The new Fadó opened to the public on 11 March 2008. The new three-level venue is a great place for lunch, dinner, happy hour, late night fun and corporate or private events. It is also the home of undoubtedly the best pint in Atlanta.
Follow us at Twitter @fadoatlanta
Or join us on Facebook