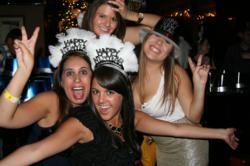 Austin, TX (PRWEB) December 10, 2012
This year Fado Irish Pub, located in the Warehouse District, hosts the "Big Pint Drops" New Year's Eve Bash. Fado is also offering a 3 course pre-fixe dinner from 5-8pm. The pre-fixe menu offers 3 authentic Irish courses and Fado's famous Irish coffee to top it off. For more details and to make reservations, guests must call the pub.
If guests arrive early they can celebrate 2 toasts as Fado toasts to their friends back home at 6pm for the Irish New Year. The official Fadó Irish Pub New Years Eve party starts at 8pm with a $20 cover charge. The cover charge includes a complimentary champagne toast at midnight and party favors to properly ring in 2013!
Because no party at the pub is complete without great music, Fado has 2 music acts. Pub favorite, the Blaggards will be playing on the patio and a DJ will be spinning inside all night long. For those not taking part in the pre-fixe meal, Fado still offers their full menu of authentic Irish cuisine.
With the wide selection of the coldest beer in Austin, Blaggards, DJ, 2 champagne toasts, and only a $20 cover - this is sure to be one of the best, and most affordable, New Year's Eve bashes in the Warehouse District. So don't miss out on this New Year's Eve event, come down to Fadó Irish Pub for ol, ceol agus craic galore!
About Fado Irish Pub
Fado Irish Pub and Restaurant was introduced to Austin in 1997 by a team of Irish and Irish-American entrepreneurs with the goal of bringing the feeling and spirit of Ireland's pub culture to the States along with great Guinness, high quality food and an environment where customers could escape from the day to day. Fado Irish Pub Austin does just that, bringing an authentic Irish experience to the eclectic vibe of downtown Austin.
Follow us on Twitter @fadoaustin
Join us on Facebook