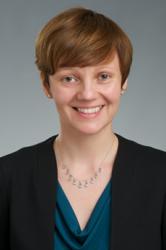 Alex is a very important addition to our growing team, adding not only technical depth in air transportation policy, but also rigorous analytical skills applicable across the range of our firm's practice areas
Boston, MA (PRWEB) April 29, 2013
Fairmont Consulting Group LLC is pleased to announce that Dr. Aleksandra Mozdzanowska has joined the firm as an Associate in its Boston office. Dr. Mozdzanowska comes to Fairmont from the Massachusetts Institute of Technology where she has been a research engineer and project manager for the last four years. At MIT, she managed and supervised research projects to identify and quantify the operational and environmental impacts of potential changes in aviation policies. Her work has been used by the FAA and ICAO to guide domestic and international policy-making decisions. She is the author of ten journal and conference publications, including:

Assessing the Environmental Impacts of Aircraft Noise and Emissions
Feedback Model of Air Transportation System Change: Implementation Challenges for Aviation Information Systems
Dynamics of Air Transportation System Transition and Implications for ADS-B Equipage
Crisis Events as a Catalyst for Change in the US Air Transportation System – Implications for Capacity
Growth and Operating Patterns of Regional Jets in the United States
"Alex is a very important addition to our growing team, adding not only technical depth in air transportation policy, but also rigorous analytical skills applicable across the range of our firm's practice areas," said Ben Harper, Director at Fairmont Consulting group. "We are very pleased and privileged to have Alex on board."
Alex received her PhD in Technology Management and Policy from the MIT Engineering Systems Division where she researched the dynamics of transitions in the National Air Transportation System, such as new technology adoption, to facilitate current and future changes in policy design and implementation. Alex also received a master's and bachelor's degree in Aerospace Engineering at MIT, as well as a bachelor's degree in Literature.
About Fairmont Consulting Group
Fairmont Consulting Group is a Boston-based firm focused on due diligence and strategic advisory services for clients active in aerospace, defense, and government services. Fairmont's rigorous analysis and unique insights help drive higher return on investment for financial sponsors and higher shareholder value for corporate clients. For more information about Fairmont Consulting Group, please visit: