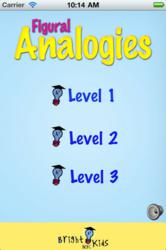 By making figural analogies exercises fun and rewarding, children want to play, and thereby practice crucial underlying skills necessary on many tests
New York, NY (PRWEB) October 12, 2012
Due to popular demand from clients, Bright Kids has released its first Figural Analogies App, now available in the iTunes store. The Figural Analogies App by Bright Kids brings its proven practice materials to students and children in a fun and interactive way. Recent studies have proven that technology is a new and exciting tool to engage students so that they learn while having fun.
Bright Kids' new app applies these findings in the same way; by making figural analogies exercises fun and rewarding, children want to play, and thereby practice crucial underlying skills necessary on many tests such as the ERB, OLSAT, NNAT2, CogAT, and Stanford-Binet, among others. Bright Kids has helped hundreds of students achieve success on these tests, and over the years has found figural analogies to be critically linked to success on New York City's Gifted and Talented test, the ERB, the Stanford-Binet, and the CogAT.
Figural Analogies are a core concept that helps children develop critical thinking skills beginning from an early age. That's why Bright Kids' first app teaches students to understand the reasoning and solutions to figural analogies questions. The significance of this concept on so many tests also explains why the Figural Analogies Core Concept book is a best-seller year after year.
Parents often call and ask Bright Kids, "What supplemental material can you recommend for my child?" Most commonly, the response is our Core Concepts Series, which includes our Figural Analogies book as well as other great practice materials like the Core Concepts Workbook or Core Concepts Practice Test. These books target and focus on the basic knowledge and reasoning skills necessary for students to get an early start on their education.
Bright Kids is dedicated to providing the best possible educational services for students across the country, and is constantly innovating new and better ways to teach children and better prepare them for school. The Bright Kids team is engaged in designing and producing more books, games, and apps to help young children develop the fundamental skills that will help them throughout their educational careers.
The Bright Kids publications department focuses on producing books, educational games, and apps. It's mission is to educate parents about standardized tests such as ERB (WPPSI-III and WISC-IV), Stanford-Binet, OLSAT®/NNAT®2, ISEE/SSAT, SHSAT, Hunter High School Exam, ITBS, and the CogAT through workshops and consultations and to prepare young children for such tests through assessments, tutoring, and publications. You can view all of our books and products at http://www.brightkidsnyc.com/shop.
To learn more about Bright Kids NYC tutoring, please contact the office at info(at)brightkidsnyc(dot)com or at (917)539-4575. For those in Chicago, please contact our new Bright Kids Chicago office at info(at)brightkidschicago(dot)com or at (773)270-9001.