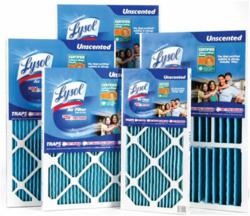 Certified by the Asthma and Allergy Foundation of America -Lysol® Triple Protection™ Filters
Charlotte, NC (PRWEB) May 16, 2013
From the leading online retailer in air filters and water filters, Filtersfast.com introduces the first ever asthma and allergy friendly air filters, certified by the Asthma and Allergy Foundation of America. Lysol®, the same name you trusted for decades, now offers Lysol® Triple Protection™ Filters with patent pending design to assure consumer confidence in buying the finest filtration available to care for indoor air.
Designed with the asthma and allergy sufferer in mind, Lysol® air filters traps pollutants and allergens, neutralizes household odors and features a built-in antimicrobial to inhibit the growth of harmful bacteria on the filter. By adding an anti-microbial, consumers get additional protection against bacterial growth on the filter, such as staph, mold and E.coli. Unlike other air filters that use chemical antimicrobials made with pesticides, the treatment that the Lysol® brand uses is safe for humans and will remain effective even after the filter is taken out of service.
Lysol® is a registered trademark of the Reckitt Benckiser Group. Asthma & allergy friendly, and the asthma & allergy friendly logos are Certification Marks and Trademarks of Allergy Standards Limited. Air filter triple protection is a registered trademark of Quality Filters, Inc.
Lysol® Air Filters do not contain scents that can trigger problems associated with asthma and allergy symptoms. These filters last up to three months and have 50% more media than most residential filters which helps to extend the life of the filter. The filter will reach its full capacity slower and allow air flow with less restriction much longer. Infused with activated carbon, Lysol® Air Filters are designed to catch molecular structure pollutants like formaldehyde, pet odors, cooking odors and vehicle fumes.
Filtersfast.com strives to add to their customer's overall quality of life, by simplifying a sometimes mundane, yet very necessary task with regular filtration maintenance. The company remains fully committed as the authoritative resource in air filters and water filters. They offer first-rate products at the best competitive prices. For more information about their wide range of air filters, water filters and the new Lysol® Triple Protection™ Air Filters, visit http://www.filtersfast.com or call their customer service department at 1-866-2438-3458.