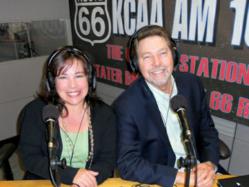 Tustin, CA (PRWEB) October 09, 2012
Jim and Lorraine Conaway are a husband-wife team and owners of Conaway and Conaway, a financial planning firm. Conaway and Conaway is excited to be supporting the Unstoppable Foundation, a worthy charity dedicated to empowering youth through education in Kenya. Conaway and Conaway provide clients with wealth preservation strategies. "Through specific strategies, you can give money to charity over the course of 10 years and receive a tax deduction for the entire amount today!" says Lorraine Conaway.
According to The National Philanthropic Trust, the largest source of charitable giving comes from individuals, at $217.79 billion in 2011, or 73% of total giving, followed by foundations ($41.67 billion/14%), bequests ($24.41 billion/8%), and corporations ($14.55 billion/5%). Conaway and Conaway realizes that most people think they lose money by giving to charity, but the Conaways have seen that it is possible to potentially increase one's net worth by giving to charities. This is why one of Conaway and Conaway's wealth preservation strategies, which includes charitable and legacy planning. Jim Conaway says, "Isn't it amazing that you could leave a legacy for your family and help out a charity at the same time?"
Conaway and Conaway believe in the strategy of giving and have helped raise $22 million for charities in planned giving. They are happy to be donating their services to the Unstoppable Foundation, especially since they share a common belief that education empowers people for brighter futures, whether they are the youth in Kenya or clients establishing their financial stability.
About the Unstoppable Foundation
In 2011, groundbreaking author and founder of the Unstoppable Foundation, Cynthia Kersey, went on an inspiring journey to Kenya. Kersey was visiting to see the progress of the schools that Unstoppable Foundation played a role in funding in rural Maasai Mara region of Kenya, including an all-girls boarding secondary school, named Kisaruni, or "Land of Peace." With a mission to empower youth through education, the Unstoppable Foundation has already made tremendous investments in primary level education through its international charitable partner, Free The Children.
In just three years, the Unstoppable Foundation has funded 26 schoolhouses in three African nations and provided partial funding for a secondary school for girls. This vital education will empower a total of 71,960 children over the next 20 years with the life-long gift of an education and a real future. In addition, the Unstoppable Foundation has given six communities access to clean, healthcare and income training for the parents so that the education model is sustainable.
Through the partnership of outstanding in-country partners, the Unstoppable Foundation supports the Adopt a Village development model which fosters ownership of the project by community members – partnering with them to provide education and sustainable solutions to help them lift themselves out of poverty. It's not charity but community empowerment and sustainability in the truest sense.
About Jim and Lorraine Conaway
With over 44 years of combined experience in the industry, financial strategists James and Lorraine Conaway have helped clients nationwide find clarity and confidence in their financial futures. They create comprehensive financial plans by incorporating traditional values with non-traditional strategies for business owners, real estate investors, charities, families, and individuals. They coordinate their efforts with a client's tax advisor, attorney, and other power team professionals to address overall goals while focusing on their risk tolerance and tax needs. Jim and Lorraine hold a CRC (Certified Retirement Counselor) and CSPG (Certified Specialist in Planned Giving) designation. Together they have raised over $20 million dollars in planned gifts for various charities. Lorraine was recently nominated for the Orange County Business Journal Woman in Business award.
In addition to owning a successful business, Jim and Lorraine also host their own radio show, "Smart Money Talk Radio" on an NBC affiliated station, KCAA 1050AM, every Monday from 3-4pm. Their goal is to educate listeners and audiences in various speaking engagements across the county on how to be smart with their money.
Conaway & Conaway
Andreea Boitor
Andreea (at) ConawayAndConaway (dot) com
714-263-1904
http://www.conawayandconaway.com
"We Support The H.O.M.E. Foundation"
About The H.O.M.E. Foundation:
The Helping Others Means Everything, or The H.O.M.E. Foundation, is a not-for-profit organization dedicated to helping our Family of Charities. Frankie Verdugo, President of The HOME Foundation, wants to help as many worthy charities as possible as they struggle during these tough economic times. Frankie Verdugo helps raise funds through luxury dream home raffles, home giveaways, prizes, and high profile celebrity events in Hollywood... "Our mission is to help charities reach their fundraising goals and to bring awareness to their praiseworthy causes."