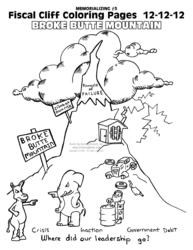 A simple and just reminder for the future generations to recall "the day America went off the Fiscal Cliff
Saint Louis, MO (PRWEB) December 11, 2012
In a simplistic colorful way Really Big Coloring Books helped memorialize for American families the days just before the Fiscal Cliff arrived. Acting of course as if we are all still in the fourth grade, included are pages of America's current leadership, a page whereby you can write down the state in which you live with a space for your local senator's and congressmen's name for the accurate remembrance. This is a simple and just reminder for the future generations to recall "the day America went off the Fiscal Cliff".
"While in a conversation on intellectual property and trademark issues, the fiscal cliff conversation came up," said Bell. "The attorney's comment was why don't you make a coloring book about the Fiscal Cliff, it's almost like our leaders never made it out of the fourth grade. That was three months ago and at the time neither of us really thought it get this serious and this close. As of right now your grandchildren's grandchildren will be paying off the mistakes and debts of this generation. What are we doing to ourselves? Where in the world has America's real true bold leadership gone? It's like we are misbehaving badly and somebody really needs a spanking! Nobody seems to be able to get this deal right."
"Where were you and what were you doing, the day America jumped off a fiscal cliff? Naturally, it was self-imposed by our elected leaders themselves, displaying their inability to play well together. These cultural event coloring pages are designed with feedback from our readers and end users and designed as educational pieces. In essence real reminders for the future generations of today's children. Parents, children and people of all ages can color their way to Broke Butte Mountain, visit Credit and Debt Valley all right before we jump off the real Fiscal Cliff this holiday season," said Bell.
Many parents, educators, teachers and children will send these pages to legislators based on the comments the company has received. "We certainly hope that a Fiscal Cliff does not become a part of American nomenclature, in the past tense sense, but it seems we are pretty close," Bell said. "This simplistic approach will allow children and their parents to record with a date and time specific as to who was in charge when the event took place, should it occur. This year will be remembered for generations. It is simple and serious: The American people need help."
Really Big Coloring Books, ® Inc. (RBCB) headquartered in St. Louis, MO is a multinational company providing coloring and activity book products for over two decades. Known for their market leading positions, RBCB'S family of trademarked products are classic, colorful and unique. The company products are multicultural, multilingual and representative of all people. The company uses soy based inks, prints on recycled paper and they participate in Sustainable Forestry Initiatives. With retail, fundraising, custom, educational and creative divisions, Really Big Coloring Books owns and operates over 700 coloring book domain names in several countries.
For more information call 1-800-244-2665 or visit http://www.ColoringBook.com.