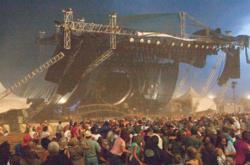 Flash floods may develop in a matter of minutes, giving little or no warning to those in their path.
Atlanta, GA (PRWEB) August 22, 2011
Water Damage Local.com, a national network of water restoration providers, is advising state fair attendees to play it safe in the wake of recent severe weather and flood damage issues across the country.
Severe weather forced the Missouri State Fair to partially close until debris can be picked up and damage to the fairgrounds repaired. Water Damage Local.com reports that the storms were severe enough to warrant the evacuation of campers from the area, moving them to the Assembly Hall for better protection.
"Due to severe weather during the night, some damage occurred on the Missouri State Fairgrounds," Fair Director Mark Wolfe said in a statement. "Fortunately, there were no injuries to people or livestock."
Electricity was out as of Friday afternoon, with many of the tents overturned and debris strewn throughout the area. Once power has been restored, the fair will fully reopen.
This was just the latest in a series of severe weather events to plague state fairs. Last week, strong winds toppled the stage where the band Sugarland was getting ready to perform.
Lighting, sound, and rigging crashed into the audience, killing five and injuring 45.
Some state fairs are putting plans together to deal with contingencies such as this. The Iowa State Fair has put together a severe weather relocation procedure for moving more than 10,000 people from the grandstand, a process that could empty the structure within 15 to 20 minutes.
And unlike the temporary stage that collapsed in Indiana, the Iowa fair has a permanent 40-foot-by-60-foot stage with a 27-foot clearance that was constructed to building code standards and has various weight load limits to maintain the structural integrity.
Minnesota is actively working to prevent a repeat of the stage collapse in Indiana, devoting staff full time to taking care of the stage, particularly the roof, as well as identifying the five most structurally sound buildings for taking shelter.
"All we can do is hope we've got some good weather," said General Manager Jerry Hammer. "The thoughts are certainly with the families down there. That's a terrible tragedy, especially at an event like that."
Water Damage Local.com advises fair attendees to be aware of rapidly changing weather conditions, and be prepared to seek shelter if the weather suddenly turns threatening. Storms such as the one in Indiana produced wind gusts of up to 70 mph (the one that knocked the stage over), and flying debris may cause serious injury.
Likewise, flash floods may develop in a matter of minutes, giving little or no warning to those in their path. Six inches of flowing water is enough to knock a grown man off his feet, and two feet of flowing water can move a car or small SUV. Most flood fatalities are related to people who become trapped in their vehicles.
Obviously these are situations that could be life threatening, and in a year of record severe weather such as 2011, it is advisable to remain alert and aware of your surroundings.
Water Damage Local.com is a nationwide network of IICRC certified water restoration providers, available 24/7 and able to handle even the largest flood damage or other water related problems.
###