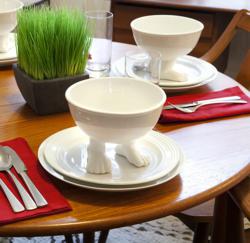 Our bowls and mugs arrived and my kids lost their little minds! You would think a box of kittens were delivered! Thank you, they really are joyful.
-- Robyn Davis
Los Angeles, CA (PRWEB) February 23, 2013
Designer and social entrepreneur, Dylan Kendall bursts onto the home décor market with her whimsical and joyful launch line of footed tabletop ware, The Efeet Collection, designed for her eponymous new home accessories company, Dylan Kendall. The Efeet Collection nods to her habit of putting feet on bowls in her own ceramics studio a decade ago. Kendall closed the studio to focus on creating arts education programs for homeless youth and in 2005 built the nationally recognized charity, Hollywood Arts before returning to her artistic roots several years ago.
The Efeet Collection invites users to walk through the Looking Glass. Bowls, coffee sets, vases and other dishware are whimsically perched on human feet, coming alive on tables and counters. The Efeet Bathroom Collection eschews human feet for the four paws found on a clawfoot bath tub and the toothbrush cup reminds one to brush her teeth with a row of teeth lining the cup's edge.
Customer loyalty to the line is high and in only a few months sales have grown exponentially. Shares customer Mitzi Spallas from Los Angeles:
"I am so happy with my Dylan Kendall home accessories! I find myself grabbing for my orange-footed mugs and white foot bowls before any other dishes now. It truly does inspire a happy morning!"
The Efeet Collection soft-launched in Fall of 2011 to rave reviews, selling out immediately after placement on leading design-influencer sites Beautiful Life, Design Milk and Swiss Miss. After several months reorganizing to meet demand, the Efeet Collection returned to market Fall of 2012. Spring 2013 welcomes new colors to the warmly received line.
Retail stores and customers looking to learn more about Dylan Kendall and the Efeet Collection can visit http://www.dylankendall.com or may contact Dylan Kendall directly at sales(at)dylankendall(dot)com.
About Dylan Kendall
Dylan Kendall proves functionality and fun go hand-in-hand with whimsical and affordable home décor and dishware, staring mugs on feet and footed bowls. By focusing on home accessories and tabletop ware, staples of every home, and infusing their functional aspects with whimsical qualities, her products bring joy and playfulness to any home where her designs are found.