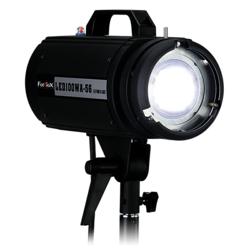 Waukegan, IL (PRWEB) May 16, 2013
Fotodiox (http://www.fotodioxpro.com) announces the LED100WA high-intensity LED lights, a constant light source modeled after a familiar strobe form. Available in 5600K (Daylight) or 3200K (Tungsten) color temperatures, these new lights allow the use of standard strobe accessories like soft boxes, snoots, grids, and more. They emit powerful light and are easily transportable, making them ideal for both still and video lighting.
Featuring high light output at 600 watt incandescent equivalent, these professional lighting systems use powerful LED light technology. Unlike other studio lights, Fotodiox LED100WA series give off practically zero heat, allowing for more comfortable and longer sessions for both the subject and the photographer. These LED lamps have a high color rendering index (CRI >85) to provide clear, color correct light and consistently render proper color. Additionally, a built-in glass diffuser provides a soft, even light.
"While not a traditional strobe in definition, the LED100WA lights are styled after strobe lighting, giving photographers a familiar format for a constant light source with high light output," said Drew Strickland, vice president of Fotodiox. "Photographers looking for powerful yet cost-effective lights have been turning toward efficient LED lighting. By offering more options in LED lights we aim to provide photographers with top-of-the-line technology that can meet their needs while also keeping down both equipment and energy costs."
The LED100WA lights are equipped with a standard Bowens (S) bayonet mount for light modifiers and other accessories such as softboxes, barndoors, snoots, and more. The versatility and cool-to-the-touch operation of the LED100WA make these lights a powerful and economical solution for both hobbyists and professional photographers and videographers.
Features include:

Tungsten 3200k ± 200
Daylight 5600 ± 300
Color Index Rating > 85
7600 Lux/m Luminance; 605 Foot-candles
Dimmable: 0-100% Power Output
Light Modifier Bayonet Mount (Bowens S-Type)
Handle for Carrying and Positioning the Light
Light Stand Mounting Bracket
The LED100WA lights are priced at $324.95 and are available now at http://www.fotodioxpro.com.
About Fotodiox
Serving the photo and video markets since 2004, Fotodiox is a leading manufacturer and distributor of high-quality professional photography and videography accessories at wholesale prices. Fotodiox is the developer and exclusive distributor of the WonderPana, as well as the premium Vizelex line of high-end camera systems and adapters. The company also markets a full line of professional photography accessories and lighting equipment, including flash strobes and wedding photography kits, daylight fluorescent lighting, tungsten lighting and video lighting kits. For more information about Fotodiox visit http://www.fotodiox.com and [http://www.facebook.com/fotodiox.