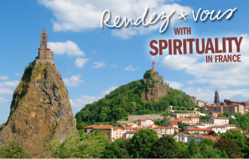 New York, NY (PRWEB) October 03, 2012
For the third consecutive year, France has launched an integrated marketing campaign to promote spiritual tourism through new videos, a sweepstakes, exclusive travel deals, plus printed and online promotional materials. For the campaign, Atout France – the France Tourism Development Agency is partnering with their Spiritual Tourism Club, which encompasses over 20 of the country's shrines, as well as Catholic Tours, a tour operator that promotes faith-based tourism in France.
Through this campaign, Atout France aims to inspire travelers interested in faith-based vacations and pilgrimages to embark on their next journey in France. This multimedia campaign includes a new inspiring video by Atout France, illustrating a traveler's journey along the famous pilgrimage route the Way of Saint James.
The campaign site includes special trip packages and deals for travelers looking to explore the country's greatest shrines and pilgrimage sites, ranging from following in the footsteps of Joan of Arc to finding clarity in Lourdes. Information on the top faith-based destinations in France is readily available, as well as a quiz, which enters participants in a sweepstakes to win their own spiritual vacation in France, with tickets offered by Air France.
In total, the campaign will reach about 2 million people, including contacts from Atout France, Catholic Online, E-Miles, and Terra.com, in addition to parishes and church leaders who plan pilgrimage trips.
About Atout France-the France Tourism Development Agency
Atout France is a government agency whose role is to promote and develop France's tourism sector as a whole. As the French government's sole operator regarding the promotion of all aspects of tourism in France, Atout France provides information to the general public and services and events for tourism professionals. The agency works in partnership with public and private organizations and companies involved in the tourism industry, i.e. over 1100 members representing the whole spectrum of France's tourism sector. Its network is made up of 350 people working in 33 offices in 28 countries. See our press corner for the latest news on travel to France.