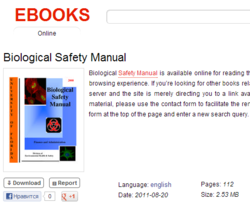 Supplying a growing number of books for different country is the purpose and characteristic of our web pages
(PRWEB) April 23, 2013
Keztram and its website Ebook Universe, with owner, Mirut Vopakri, are pleased to announce that the website with its book inventory continues to expand and become more useful to visitors. The selection of books online has been expanded to include some new languages with quality translation services. This makes the website more convenient and accessible to international users.
According to website owner Mirut Vopakri, "Supplying a growing number of books for different countries is the purpose of our web pages. Currently, we have a database of more than 55 million books. With a number of new investors who are interested in expanding the inventory, the growth of volumes is phenomenal; over five million books are added each month."
Finding more information online, including books, is useful for research, pleasure reading, or those who want more details about the world. Now that there are additional world languages included in the inventory, more people can be assisted in their desire for information.
The website contains a functional book viewer so that a visual scan of the content is convenient and fast. Finding information on a specific topic or by a particular author is also facilitated through the use of filters. When searching for information, there are a number of levels that can be accessed. As the reader becomes familiar with the search tools, finding and following up on a specific topic is easy and fast.
The website has built-in safeguards to protect against using copyrighted materials. There is no need to purchase research volumes, only to find that they are not the information that is needed. A quick review of the content can make certain that the buyer has the purchased materials that are needed for study.
Learn more about the benefits of using books online casual reading, research or study purposes by visiting the website at ebookuniverse.net today. Members of the press and individuals who have additional questions regarding the the contents of this specific press release are invited to contact Mr. Mirut Vopakri at the location specified below.
Contact Person Name: Mirut Vopakri
Company Name: Keztram
Address: Torrance, CA
Email: info(at)ebookuniverse(dot)net
Website: ebookuniverse.net