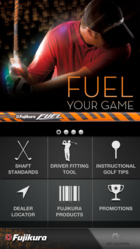 The new and improved functionality provides a mobile experience that influences consumer purchasing behavior and revenue through our Captive Reach enterprise mobile technology solution
SAN DIEGO, CA (PRWEB) February 28, 2013
Parallel 6 Inc., a leading enterprise mobile technology firm, has partnered with The Agency SD to bring Fujikura, a leader in the golf shaft design industry, an updated end-to-end mobile experience that will promote usage and functionality while providing powerful consumer and geographic insights.
"Fujikura is a leader in premium golf shaft technology. We are pleased to extend our Captive Reach technology in a partnership with The Agency SD. The new and improved functionality provides a mobile experience that influences consumer purchasing behavior and revenue through our Captive Reach enterprise mobile technology solution," said David Turner, CEO of Parallel 6.
Fujikura prioritizes a commitment to constant and consistent communication with golfers at every level of the game. Parallel 6's Captive Reach technology is designed to go where customers go. Its technology will provide consumer insights that allow Fujikura to know where customers are spending their time while using the app. Captive Reach also provides geographic insights that can trigger contextual offers to loyal Fujikura consumers. Social insights is another aspect of Captive Reach technology that can be utilized to allow customers to share special offers and promotions amongst their friends via social media.
The Fujikura app is live and can be downloaded for iPhone at http://bit.ly/WpU0g7, or for Android at http://bit.ly/WihRDx. To learn more about Captive Reach technology and Parallel 6's mobile strategy, please visit http://www.parallel6.com.
###
About Parallel 6
Parallel 6 Inc., located in San Diego, is the creator of Captive Reach, a leading enterprise mobile application platform. Captive Reach influences consumer behavior, enhancing brand recognition and building strong client-customer relationships. With a combination of competitive, social, geographic, and market basket insights, Parallel 6′s Captive Reach allows brands to engage and activate their best consumers through the palm of their hand. Parallel 6 serves a wide array of B2B and B2C companies including retailers, daily deal companies, hotels, e-commerce, publishers and professional service firms around the globe.