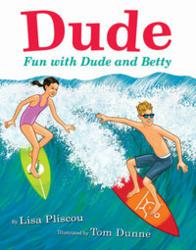 As the author of a fun, funny new book called DUDE, I'm a big fan of stoke. For parents who, like myself, are looking to inspire and motivate their kids, taking a deeper look at stoke can have huge implications.
New York, NY (PRWEB) May 09, 2011
"As the author of a fun, funny new book called Dude, I'm a big fan of stoke," Lisa Pliscou says. "It's a word surfers use to describe feeling happy, satisfied and excited about life. For parents looking to inspire and motivate their kids, taking a deeper look at stoke can have huge implications."
Describing stoke for non-surfers, Mihaly Csikszentmihaly says in his book Flow: The Psychology of Optimal Experience that it's about "being completely involved in an activity for its own sake. The ego falls away. Time flies. Every action, movement and thought follows inevitably from the previous one, like playing jazz."
It's been identified as a major component in scientific exploration; creative pursuits such as art, music, writing and dance; sports and athletic endeavors; religion and spirituality; and mind/body practices such as tai chi, yoga and meditation.
When kids complain, "I'm bored!" very often they're describing a state of feeling empty, flat, at loose ends. "Stoke," Lisa Pliscou says, "is the absolute and total opposite of being bored. Bringing more stoke into your family life can take on a wide variety of forms -- and have major, long-lasting implications."
Says Eric Jensen, author of Enriching the Brain, "We all have to find and nurture our 'stoke'—our favorite unabashed bliss. It brings energy, vitality and meaning to our life. Without it, we're confronted with one intractable problem after another. With 'stoke,' life is spiced with a never-emptying shaker of positive energy."
There is a strong and proven correlation between stoke and enhanced performance, skill development, motivation and personal growth. There's also a powerful correlation between happiness and overall well-being.
What do parents want for their children? "Most of us would say that we want them to receive a quality education, find a good job, establish loving relationships, enjoy a healthy, active existence—to develop their gifts to the fullest and to lead a happy, successful life," says Pliscou. "The question then becomes: How do we help them get there?"
One simple way parents can help is to identify and encourage their kids' positive activities and enthusiasms. "When they're stoked," Lisa Pliscou says, "they're carving out neural pathways in their brain that support the habit of being curious, engaged and passionately involved. Isn't this the kind of person we want them to be—now and down the road?"
Another simple way is to just go outside. Does this mean families should get to the beach more often? For sure. Sign their kids up for surfing lessons? Maybe. "Surfers spend their time literally immersed in nature," says Pliscou. "They're outside, in the water, in the sun, in the fresh air. Surfing is exercise and play, continual challenge and epic fun all at once."
According to the No Child Left Inside coalition, research suggests that kids who have ample access to nature enjoy increased vitality, stronger motivation and a heightened capacity for learning. "It's no secret that exercise, regardless of our age, can elevate our mood," Pliscou comments. "Being outside can make us happier and healthier. Laughter can change our lives."
"Surfer or not, a great way to bring more stoke into your family's life is to just get stoked yourself," adds Pliscou. "Let your kids know what brings you joy. Did you just come back from a great run? Brilliantly solve a problem at work? Read something that made you laugh? Talk it up at dinnertime, bedtime, in the car. Consciously or unconsciously, children model themselves on us—a process that continues well into adulthood. Why not give them the gift of stoke?"
"Wellness is about physical health, of course," says integrative physician Joel O. Ying, MD, "but it's just as much about happiness for a healthy mind and spirit. Getting stoked and excited about life is about feeding the fires of creativity, expression and achievement. Being stoked is about feeling the joy of life and letting that flow through every cell of your body."
Adds Lisa Pliscou, "While the big question is 'What gets your kids stoked?' an equally important question is 'What gets YOU stoked?' Like the surfers say—go for it!"
###