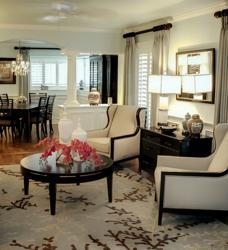 Houston, TX (PRWEB) May 10, 2013
Star Furniture, a Berkshire-Hathaway furniture retailer has introduced its Great Room Seminars. These seminars explored the design and décor possibilities presented by having a great room - a large space that incorporates the living, dining and kitchen areas. Some of the topics addressed were: how to define areas within the great room, how to combine comfort and style, how great rooms fit in today's lifestyle and what to look for when shopping.
These free presentations helped consumers better plan and execute a successful design of their great room. Whether they are decorating suburban or city dwellings, older or newer homes, this seminar discussed elements of great room design that can be incorporated in any space.
Great rooms have been an architectural trend for over a decade and are more prevalent in the South and West. The National Association of Home Builders estimates that the "Great Room" is the likeliest room to be included in the average new home, making this particular topic highly relevant to consumers.
The Great Room Design Seminars were held at Star Furniture Stores in and around the Houston area, as well as in Bryan, Austin and San Antonio. Star's Interior Design Team presented the hour-long sessions, which took place from late April to mid May.
Star has seminars and decorating schools throughout the year, check online for the nearest events. For more information about Star Furniture's seminars, visit http://www.starfurniture.com/designseminars. Be sure to follow them on Facebook, Twitter and Pinterest and check out their blog, http://www.furniturepolished.com.
About the company:
At Star Furniture, interior design is about much more than creating a "look." It's about designing a personalized space that is practical for each customer's lifestyle and home. Design service is absolutely free at Star Furniture. Their in-store designers are here to help make the shopping decisions easy, straightforward and affordable. They can pinpoint each style, sort through all options, and develop a design plan that balances function and aesthetics. For more information, please visit their website.