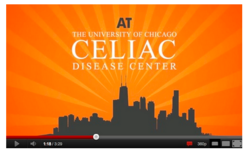 Our clients recognize it, and obviously so did the W3 judges.
Chicago, IL (PRWEB) October 06, 2012
The GA Communication Group, a Chicago-based full-service communication agency, was recognized seven times over for digital creative and marketing excellence by the International Academy of Visual Arts as they recently announced winners of their 2012 W³ Award, an annual competition honoring outstanding Websites, Web Marketing, Web Video, and Mobile Apps.
The W³ awards won by GA in this year's competition include six gold awards and a Best in Show:
The Spring Flours, a web video the agency created for the University of Chicago Celiac Disease Center received three awards, including Best in Show for visual effects/motion graphics, a gold for Web video/activism, and an additional gold for Web Video/nonprofit.
The agency's digital efforts for AmLactin moisturizer (AmLactin.com) also received three W³ awards, all gold: one for General Website/Beauty and Cosmetics, one for Website features/copy, and one for their social media/Facebook campaign.
The final gold award was received for the launch Website of the exciting new disposable insulin delivery device, V-Go (http://www.go-vgo.com), winner for General Website/pharmaceuticals.
"Over 3,000 entries were submitted in this year's competition," commented Geoff Melick, the agency's EVP/Chief Creative and Innovation Officer. "We've historically won a gold or two every year, so we're especially proud of the recognition this year as this level of success in such a prestigious competition reflects our everyday approach to creating and delivering dynamic content in a terrific user experience, regardless of the media. Our clients recognize it, and obviously so did the W³ judges."
About GA Communication Group
The GA Communication Group is a progressive and growing communication agency whose success is rooted in 30 years of experience and service blended perfectly with today's complex needs for strategy, content, and a complete digital, technical, and executional prowess. For more information, visit http://www.gacommunication.com.
About the W³ Awards
The W³ Awards honor creative excellence on the Web, and recognize the creative and marketing professionals behind award winning Websites, Web Video, and Online Marketing programs. Simply put, the W³ is the first major Web competition to be accessible to the biggest agencies, the smallest firms, and everyone in between. Small firms are as likely to win as Fortune 500 companies and international agencies.
The W³ Awards are sanctioned and judged by the International Academy of the Visual Arts, an invitation-only body consisting of top-tier professionals from a "Who's Who" of acclaimed media, advertising, and marketing firms. Please visit http://www.iavisarts.org for a full member list and additional information.
For more information about the W³ Awards, please visit http://www.w3award.com, email The W³ Awards at info (at) w3award (dot) com or call 212-675-3555.