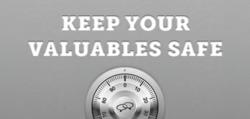 Some of the most valuable things are kept in the garage, which burglars are likely to steal. It's important to take the necessary steps to secure garages and other structures like sheds.
Baltimore, MD (PRWEB) May 07, 2013
Many people enjoy the convenience of a detached shed or garage as a place to store vehicles, tools, or anything that may not have a place inside the home. While a detached structure can offer protection from the elements, and valuable storage space, they can also serve as a potential target for thieves.
Often, a detached structure is forgotten when it comes to home security, but it is important to protect these structures, just as a traditional home is protected. The security and safety experts at SecuritySystemReviews.com, a site offering reviews of the top home security systems and security system equipment, created a list of tips to secure detached structures, and increase the safety of a homeowner's property.
1. Strong, quality locks on all windows and doors are the best way to safeguard against a break-in when it comes to sheds and detached garages. Just as it's important to have the best possible locks on a home's windows and doors, it's equally as important to make sure locks are in good condition on detached structures.
2. Install security equipment in sheds and garages, particularly if these are areas where expensive items are kept. Typically, a detached structure can't be wired to a home's alarm system, but there are other options, in particular wireless home security systems. There are a number of cheap home security systems and cheap security system equipment options that can be installed easily in detached structures to provide extra security, without being a big investment.
3. Cover windows and doors so that burglars can't see what's inside a detached structure. This is one of the best ways to deter a burglar. Windows can be covered with blinds or curtains, or even spray paint, to prevent criminals from spotting valuable targets. By making it hard for a burglar to see what's inside, they're more likely to move onto an easier target.
4. Consider installing security lighting or cameras on the exterior of detached structures. Burglars know these areas will most likely be unoccupied at night but by installing extra security equipment, including motion-sensor lights and cameras, it is more likely that a homeowner will prevent a theft from occurring.
5. Never leave doors to a detached garage open, even while members of the household are present. This can serve as an invitation to passerby's who may be tempted by valuable contents within a detached structure.
6. Keep garage doors and detached structures in good condition. Avoid broken locks, windows, cracks or other areas that can be a point of entry for a burglar. Garage doors that are in disrepair are a particular point of concern, because they can be easily pried open.
About the Company
SecuritySystemReviews.com is a website that provides comprehensive, unbiased reviews of home security systems and security system equipment, including price comparisons. The site was created by security professionals to help consumers make informed security system decisions.