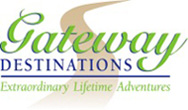 Gateway Destinations already has some great clients in the Phoenix
Tucson, Arizona (PRWEB) April 30, 2013
Jan Acorn, owner of Gateway Destinations, is pleased to announce that they will be expanding into the north valley area of Phoenix, Arizona beginning May 1st. This is an exciting opportunity that allows Gateway Destinations to serve this area in a more personal way by providing one-of-a-kind travel planning services and sharing unforgettable travels through one of their women-only tours.
To ensure seamless customer service and continue providing extraordinary adventures for their Tucson travelers, Gateway Destinations will maintain regular scheduled visits to this area. Operating behind-the-scenes with Gateway for over two years, Amber van der Voort will be available to assist their Tucson clients as well.
"Gateway Destinations already has some great clients in the Phoenix area and we are excited to be more convenient with a local office," states Jan Acorn.
For further information about women-only tours or travel planning services, contact Jan Acorn with Gateway Destinations, 602-923-1542. You may also visit their website at http://www.gateway-destinations.com.
About Gateway Destinations
Gateway Destinations, LLC provides custom travel planning services for individuals, couples and small groups to Alaska, Hawaii and foreign destinations. In addition, Gateway creates and escorts custom small group tours to Europe, specializing in guided tours for women.