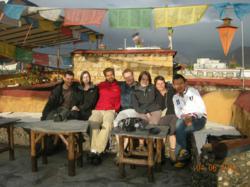 travelers from Europe can maximize their Tibet travel value with local tour agency www.tibetctrip.com!
(PRWEB) May 17, 2013
Tibet travel season 2013 is here now. Local Tibet travel agency Tibet Ctrip Travel Service TCTS (http://www.tibetctrip.com) provides wide varieties of Tibet tours and adventures for travelers from European countries such as Germany, Netherlands, Italy, Czech Republic, Austria, UK, France etc. Here below are some Tibet tour packages TCTS promotes in Europe and the prices are generally 30% cheaper than agencies abroad and 20% cheaper than agencies selling tours from China.
Package one: Tibet Lhasa tour in 3, 4 , 5 days
This short time culture tour provides golden opportunity for travelers on a tight schedule to witness culture on tour in Tibet. In just four days it is possible to visit some of Tibet's most famous cultural sites, sample some Tibetan food, and then move onto to another destination such as China or Nepal. Frequently travelers find themselves with a whole list of places to visit and little time. Whether it be a brief Tibet holiday or part of a much longer adventure, a four day visit to Lhasa can be perfect for those on a schedule.
Package two: Namtso and Mt. Everest Base Camp adventure 8 to 10 days
The most popular Everest Base Camp excursion starts from the holy city Lhasa, capital of Tibet by appreciating its prominent historical and religious sites like Potala Palace, Jokhang temple, Drepung and Sera monastery. Before immerging into the terrains of young Himalayan region, the sprawling holy Yamdrok lake, thriving Karo la glaciers, mystical Gyantse Kumbum stupa and Tashilhunpo monastery keep travelers stirring with astonishment and appreciation. The terrain of mighty Himalayan is remarked by different geological formations and superb panorama of Himalayan range, spend a night at the foot of the world tallest mountain, tourists may have a short hike 6km at the EBC which is a challenge at the high altitude, then tour group will retrace the road back along the Northern friendship highway. The highlight of this tour is that travelers will travel to the northern nomadic grassland and enjoy the view to the impressive Oyuk valley and beautiful village farm and typical villages along the way. This part is rarely traveled by mass tourism.
Package three: Trekking in Tibet
Adventurers can easily experience Tibet through intense cultural emersion while trekking across the many Tibetan natural wonders, while also venturing to some of the highest peaks on earth. Tibet Travel Agency-TCTS's dedicated staffs specialize in Tibetan tourism by staying closely integrated with the Tibetan community, and are thereby fully knowledgeable of local Tibetan tradition, culture, and Tibetan landscape. TCTS's primary goal is to provide travelers the most authentic as well as memorable once in a lifetime Tibet trekking experience.
Package four: Mount Kailash tour package
Mt. Kailash is among the most sacred places on earth. It is the mother of all holy places, "Tirtha Sthaan", for followers of Lord Shiva, "Shiv-Bhakts". This holy mountain is to Hindus as Jokhang Temple is to Tibetan Buddhists or as Jerusalem is to followers of Christianity. The Mt. Kailash Yatra (ritual), is a pilgrimage undertaken by those wishing to purify their soul through peace with themselves and the world around them. Pilgrims will trek around the base of Mt. Kailash, while many take about three days, some devout pilgrims make the journey in one day. Tibetans who make this pilgrimage will leave behind an article of clothing, a lock of hair, or a stone to symbolize leaving behind prejudice and misperceptions of reality.
Every year there are thousands of travelers from Europe to Tibet. However, to get reasonable Tibet tour prices for an authentic travel experience is not always easy. TCTS is one Lhasa based Tibet travel agency recommended by many customers from European countries such as Germany, Netherlands, Italy, Czech Republic, Austria, UK, France etc. For European travelers to Tibet, TCTS would try their best to offer the best itineraries and prices and create wonderful memories for every traveler.
Tibet Travel Company TCTS Contact Address:
Post Address: Tibet Niwei International Travel Service, Co., Ltd (Niwei Building Room 302, No.13 North Linkuo Road, Lhasa, Tibet)
Tel/Fax (Lhasa area code):86-891-6342607, Mobile: 86-13628999610 (Tony), Post Code: 850000
Email: sales (at) tibetCtrip (dot) com, TibetCtrip (at) gmail (dot) com