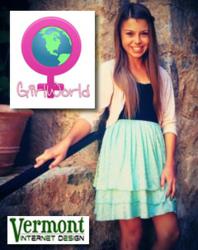 In the world of software development, Jordan got to experience all of the hard work that is involved with developing a mobile application.
Scottsdale,AZ (PRWEB) May 07, 2013
GirlWorld, that is the name of the new social network (http://www.girlworldinc.com ) that was created by Jordan Craft. A 13 year old genius out of Scottsdale, AZ. At 13 years old, Jordan decided to jump into the world of mobile development and work to create a social network that would be useful to her and her friends. Jordan says, "At my age I don't want to see people I don't know on my Facebook feed. I don't feel safe there, and I wanted to start a business at the same time. I really love technology, and I wanted to pioneer a safe place for not only me, but girls like me all across the country."
In the world of software development, Jordan got to experience all of the hard work that is involved with developing a mobile application. Yet stuck with it and understood the sacrifices and triumphs that come along with putting together a social network. There are a lot of people talking about not having enough women that are interested in technology. Jordan on the other hand has created a social network that is geared towards girls. A place where girls can go and talk, share pictures, and experiences. She made it through a nine month development process of working with programmers, implementing ideas, overseeing developers, and making sure that her vision was turned into a reality.
Most 13 year old girls are probably more interested in hanging around with friends, maybe getting a job doing some work to raise up enough money for a new Ipad. Jordan decided instead to focus on the future and work to create a platform that is geared towards making the world a safer place.
John Anderson of Vermont Internet Design LLC (http://www.vermontinternetdesign.com) lead programmer on the project said, "I've worked with many intelligent people. I am glad to have had the opportunity to work with Jordan on this project. She is more intelligent than most 50 year olds that I have met. Also better at articulating her vision, then just about anyone I have come across. Jordan's project won't fail because she won't quit. She knows what the future is going to be, because she is working to create it right now."
In the age of social media personal information is now being broadcasted to the world through social media. There are many people screaming for more privacy. Girls need a place where they can talk to their girlfriends, without as many privacy concerns. Girlworld provides you with a platform that addresses these issues.
Jordan is working to make her network available on all mobile platforms. At 13 years old with the help of her very supportive parents Leah and Stan Craft, Jordan has produced her vision.
"I plan on creating BoyWorld in the future, expanding on GirlWorld, and working hard to create a place where people are safe online. If the girls can enjoy it so can boys but first thing is first tell everyone to Sign up! I won't let you down!" Jordan posted to GirlWorld on her Iphone.
Jordan has inspired many with Girlworld and has a determined attitude about keeping it safe. Jordan said, "It will be easy to keep the boys out of Girlworld. I'll just delete you." The Girlworld mobile application is right now available on the web. GirlWorld will soon be available on the Itunes Store, Google Play, and Windows Phone Marketplace.