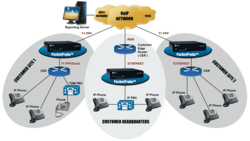 GL's PacketProbe™ is an advanced CPE (Customer Premises Equipment) based VoIP monitoring reporting and diagnostic appliance, stemming from GL's suite of market leading voice analysis tools.
Gaithersburg, Maryland (PRWEB) May 16, 2013
GL Communications Inc. a leader in providing PC-based test, analysis and simulation products and consulting services to the worldwide telecommunications industry, announced today its enhanced embedded VoIP Monitoring Software Solution.
Speaking to media persons, Mr. Robert Bichefsky Senior Manager for product development of the company said, "Voice over IP (VoIP) has become a widely accepted technology, but like most IP applications, it requires attention to detail to be successfully deployed. Tools like PacketProbe™ can be used to ensure successful deployments, and can also be used to help with network design, ensuring that the most efficient topologies are implemented."
He added, "GL's PacketProbe™ is an advanced CPE (Customer Premises Equipment) based VoIP monitoring reporting and diagnostic appliance, stemming from GL's suite of market leading voice analysis tools. It passively monitors VoIP traffic carried over WAN/LAN by producing real-time per call and per-stream voice quality metrics. Call Detailed Records (CDRs) along with voice quality statistics including Mean Opinion Score (MOS) and other vital diagnostic information provide network managers immediate visibility into service quality, call volumes, and call details."
Mr. Bichefsky further added, "PacketProbe™ software can be used as an Real-time Monitoring, Reporting and Diagnostic tool. It can fit seamlessly into any existing standards based management or reporting environment, such as SNMP or RADIUS. PacketProbes™ can provide vital voice call quality statistics, Call Detail Records and Quality of Service metrics at the end of each call"
Main Features:
·Reports Call Detailed Records (CDRs) and Quality metrics per call/stream, including:
·Call summary statistics including caller number, callee number, start time, duration, etc.
· Listening and Conversational Mean Opinion Score (MOS-LQ, MOS-CQ)
· Listening and Conversational R factors (R-LQ, R-CQ)
· R-factors for burst and gap conditions – R-Burst, R-Gap
· Max/min/average gap, delay, jitter
· Missing, discarded, out of sequence and duplicate packet statistics
· Max/min/average round trip delay
· Codec and SSRC identification
· Supports wide range of industry standard and proprietary codecs (see list in specs)
· Automatically detects active VoIP calls based on VoIP call signaling or RTP session.
. Supports SIP, MGCP, MEGACO, H.323/H.255
·Call Quality analysis using optimized ITU-T G.107 with ETSI TS 101 329-5 Annex E
·Supports Japanese TTC JJ201.01 VoIP monitoring requirements
Applications:
·PacketProbe™ can be integrated into third-party products like a Router Network Interface Device, and In-line or Passive Probes
·Linux or Windows based embedded application support
·Industry standard reporting mechanism like SNMP, Radius, TCP/IP
·Multiple PacketProbes™ can provide network wide voice quality visibility through GL's PacketScanWeb™ or other NMS systems
About GL Communications Inc.,
Founded in 1986, GL Communications Inc. is a leading supplier of test, monitoring, and analysis equipment for TDM, Wireless, IP and VoIP networks. Unlike conventional test equipment, GL's test platforms provide visualization, capture, storage, and convenient features like portability, remotability, and scripting
GL Communications has over the years worked with major telecom equipment vendors (EVs) and system integrators to meet the testing requirements arising at various stages of telecommunications product development life cycle.
With its proven expertise of over 25 years, GL has a comprehensive suite of telecom testing solutions to verify and ensure 'quality and reliability' of variety of telecom networks including Wireless, and high-speed fiber optic lines.
GL's test tools range from simple PC-based software test tool to all-encompassing hardware units with futuristic expansion capabilities. GL's test solutions cover wide array of networks – 4G (LTE), 3G, IP, Ethernet, T1, T3, E1, E3, OC-3/STM-1, OC-12/STM-4, and traditional PSTN networks.
GL's tools are widely used by the telecommunication industry for conformance testing, automated stress/load testing, performance testing, remote accessibility, centralized web-based control and analysis, fault testing and analysis, and customized testing.