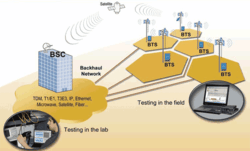 GL's test gear helps test backhaul no matter what the media is and are portable, hand-held, or PC based equipments that are used successfully by customers world-wide to monitor and troubleshoot deployed networks
Gaithersburg, Maryland (PRWEB) April 11, 2013
GL Communications Inc. a leader in providing PC-based test, analysis and simulation products and consulting services to the worldwide telecommunications industry, announced today its enhanced GSM Backhaul Network Testing solutions.
Speaking to media persons, Mr. Jagdish Vadalia Senior Manager for product development of the company said, "As mobile communications witnessing a rapid rise, there is an increase in data and video penetration in the mobile market, and in the context wireless backhaul assumes paramount of importance. IP and Ethernet backhaul over fiber, microwave, and even TDM (T1 E1 T3 E3 OC3 and OC12) is gaining momentum. Operators have chosen alternate backhaul solutions such as leased T1 E1, Ethernet, IP, Satellite, Microwave, and Fiber to minimize expenses."
He added, "Traditional T1 E1 circuits are not sufficient, operators must be equipped with optimum tools to monitor and troubleshoot various types of backhaul to ensure that the network is capable of reliable transmission to a growing number of cellular sites."
Mr. Vadalia further added, "GL provides various testing solutions to monitor and test backhaul networks. Our test gear helps test backhaul no matter what the media is and are portable, hand-held, or PC based equipments that are used successfully by customers world-wide to monitor and troubleshoot deployed networks."
He added, "Specializing in both hardware and software design, GL offers a complete line of TDM, T1 E1, T3 E3, Ethernet, Microwave, Satellite, Fiber Test Solutions, which complies with the requirements for various network traffic, providing cellular operators with versatile test solutions."
Main Features:
·Test T1 E1 T3 E3 cellular backhaul (delay, throughput, error free transmission)
·Test cellular IP backhaul, carrier Ethernet backhaul etc
·Test point-to-point and multipoint circuits
·Simulate backhaul systems in the convenience of your Lab
About GL Communications Inc.,
Founded in 1986, GL Communications Inc. is a leading supplier of test, monitoring, and analysis equipment for TDM, Wireless, IP and VoIP networks. Unlike conventional test equipment, GL's test platforms provide visualization, capture, storage, and convenient features like portability, remotability, and scripting
GL Communications has over the years worked with major telecom equipment vendors (EVs) and system integrators to meet the testing requirements arising at various stages of telecommunications product development life cycle.
With its proven expertise of over 25 years, GL has a comprehensive suite of telecom testing solutions to verify and ensure 'quality and reliability' of variety of telecom networks including Wireless, and high-speed fiber optic lines.
GL's test tools range from simple PC-based software test tool to all-encompassing hardware units with futuristic expansion capabilities. GL's test solutions cover wide array of networks – 4G (LTE), 3G, IP, Ethernet, T1, T3, E1, E3, OC-3/STM-1, OC-12/STM-4, and traditional PSTN networks.
GL's tools are widely used by the telecommunication industry for conformance testing, automated stress/load testing, performance testing, remote accessibility, centralized web-based control and analysis, fault testing and analysis, and customized testing.