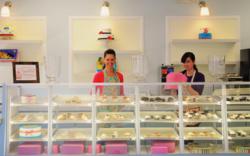 Sensitive Sweets was created out of love and necessity because everyone deserves a treat.
Orange County, CA (PRWEB) August 31, 2011
While many kids ooze with excitement over the site of cookies and cupcakes at a party, Alex and Gavin DeArmey, 5 and 2, are not allowed to partake in the treat festivities.
It's not because their mother, Katrina, is opposed to all things delicious. Rather, the DeArmey boys are two of the over 12 million Americans living with food allergies. According to the Center for Disease Control, food allergies result in over 300,000 ambulatory-care visits a year among children alone.
"My boys had never been to a bakery for fear of cross contamination," said Katrina whose boys have milk, egg and nut allergies. That all changed recently when Parents of Kids with Food Allergies Support Group suggested the family visit Sensitive Sweets, Orange County's dedicated gluten free and nut free bakery. "The look on their faces when I told the boys they could have anything in the case was priceless."
It's families like the DeArmey's that inspired Melanie Hohman to create Sensitive Sweets in Fountain Valley. In fact, Melanie's youngest son Bradley has severe life-threatening food allergies, as well as eczema and respiratory issues. "It's heart breaking to watch these kids feel left out while other kids are enjoying cupcakes, birthday cakes and cookies," said Hohman. "Sensitive Sweets was created out of love and necessity because everyone deserves a treat."
"I don't know of another bakery in all of Orange County that I would feel comfortable ordering from for my oldest son, who has such severe nut allergies that he cannot even have items baked in the same facility as other items containing nuts," said Katrina. "It's so nice to order with confidence and know that there's NO chance of cross contamination at Sensitive Sweets."
About Sensitive Sweets
Sensitive Sweets specializes in baked goods for those who have food sensitivities or dietary restrictions. Our fresh breads, cupcakes, custom cakes, muffins and cookies are wheat (gluten) free, dairy (casein) free, egg free, soy free and nut free… since EVERYONE deserves a treat! Sensitive Sweets is located in Orange County, CA and ships nationwide. Bakery hours are 10am-6pm Tuesday through Friday; 10am-5pm on Saturdays; and closed Sundays and Mondays. For more information, visit http://www.sensitivesweets.com or call 714.968.9169.
###