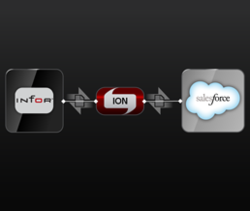 Inforce Everywhere allows front- and back-office ERP users to collaborate more
effectively to quickly address business opportunities and achieve maximum success
Clinton Township, MI (PRWEB) October 08, 2012
Godlan, Inc., an Infor Gold Channel Partner representing the Midwest and Southeast, announced today that SyteLine (Infor10 ERP Business) is now available as an integrated CRM solution with Salesforce.com – the enterprise cloud computing company. Customers use Infor ION Suite technology and Inforce Everywhere to connect with Salesforce, providing a 360° view of client information across the enterprise.
Information shared between SyteLine and Salesforce CRM is vital to obtaining a complete view of the relationship between organizations and their customers. Inforce Everywhere enables users to create and maintain contacts in Salesforce or Infor back-office applications and they will remain synchronized between both solutions. In addition, customer transactions, including quotes, orders, shipments, invoices, payments, and returns managed in the back office are imported and revealed by Inforce Everywhere. When these transactions are created or changed, they are automatically updated in Salesforce.
Inforce Everywhere brings together ERP and CRM to create a more responsive and effective enterprise. "Infor ION technology delivers standardized ERP/CRM integration, taking the risk, cost, and customization out of integrating SyteLine (Infor10 ERP Business) software with Salesforce," said Ron Clontz, vice president of sales and marketing at Godlan. "Inforce Everywhere allows front- and back-office ERP users to collaborate more effectively to quickly address business opportunities and achieve maximum success," said Clontz.
Godlan was awarded North America SyteLine ERP Partner of the Year in 2011 and is an approved Infor Gold Channel Partner serving customers for twenty-eight years. For more information, visit godlan.com or call 586- 464-4400.
###
About Godlan
Godlan is a leading manufacturing performance specialist that has been implementing integrated technology solutions since 1984. As an approved Infor Gold Channel Partner with a focus on SyteLine (Infor10 ERP Business), Godlan supports the implementation of world-class processes and best practices throughout discrete manufacturing organizations. For more information about Godlan or SyteLine (Infor10 ERP Business) manufacturing software demos, call 586-464-4400 or visit godlan.com.
###