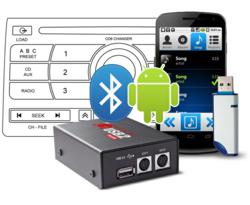 Being a part of the local Holiday Program strengthens us.
Belmont, CA (PRWEB) December 19, 2012
Customers may enjoy special offers right now through January 4th, 2013. The special coupon code CHR12 can be entered at GROM Audio web store checkout page. The music lovers and Smartphone owners appreciate $10 OFF GROM-USB and $15 OFF GROM-MST3 car multimedia integration kits. With GROM adapters it is easy to connect Smartphone or MP3 player to the factory car stereo via direct connection or Bluetooth.
It is the busiest time of the year at GROM Audio, and their primary goals are on delivering quality products on time for the celebrations. While focusing on the company, they don't forget to take care of what's important during the holiday season. Some of the company employees volunteer at the local Community Outreach program and participate in the Toy Drive. "Being a part of the local Holiday Program strengthens us," says GROM's team member.
To compliment Holiday specials, GROM announced the release of new firmware for its USB, Android® and Bluetooth integration kits for certain Volvo. The firmware emulates SAT (satellite) controls for Volvo head units HU850 and HU650, and allows displaying current song information such as song title, album, and artist. The music from Android phone or USB stick plays directly through the Volvo factory radio, and controlled using car stereo satellite controls. Firmware can be downloaded at GROM software page, and the operation illustration can be found at the company website.
In addition, GROM announced the enhancement for its car Bluetooth technology. For certain Toyota®, Lexus®, Honda® and Acura® vehicles, the drivers will now enjoy automatic turning on of the stereo upon Bluetooth phone call, and caller ID . The company filmed short demonstration for its Bluetooth integration kit with Toyota Prius® stereo. The video is available for viewing at GROM's YouTube channel.
GROM Audio is recognized as a Professional Developer and Manufacturer of High Quality In-Car Multimedia Integration Systems.
GROM Audio manufactures aftermarket car kits to connect Smartphone and Multimedia devices to the factory car stereo.
More information about GROM Audio is available at company website http://www.gromaudio.com