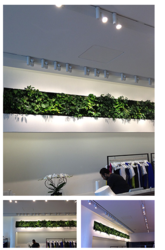 It's living art work, much like fashion and trends it changes with each season. The green wall is integral to the success of the space
Beverly Hills, CA (PRWEB) December 11, 2012
GSky Plant Systems, Inc., a leading provider of vertical green walls completed a Versa Wall™ installation at the infamous women's specialty, multi-brand retailer INTERMIX Beverly Hills location. INTERMIX is a trendsetter that makes unique fashion statements, and is now a leading example for fashion retailers everywhere to introduce green elements in their store design.
With a compelling and unique point of view, INTERMIX offers a mix of on-trend, irresistible clothing arrangements representing the personal style of each customer while providing an intimate and personal approach to creating the perfect look. Before green became one of the official Spring 2013 color trends, the seriously trendy fashion retailer has taken the green trend to another level by bringing landscape indoors in a unique and creative way.
"The design intent was to connect nature with the retail environment, something that compliments the contemporary nature of the space and draws customers in on a comfortable and intimate level." –Nick Vular, Project Manager, AHBE Landscape Architects.
The decision to add live plant elements to the Beverly Hills location was borrowed from the vine trim that outlined the outside of the their Los Angeles store. The boutique wanted a magical blend of address and aesthetics, staying in tune with the classic old Hollywood feel with the intent to attract stylish shoppers.
The décor is a mix of old charm fused with modern glamor. A hundred year old palm looms large in the open well lit boutique that boasts silver palladium travertine marble, hand finished pearlized plaster walls and brushed stainless steel dividers. The Versa Wall™ situated above the cash wrap is a major focal point for the store. It is visible from all outside angles capturing the attention of passing visitors and drawing their eyes to the inside.
"It's living art work, much like fashion and trends it changes with each season. The green wall is integral to the success of the space" –Nick Vular, Project Manager, AHBE Landscape Architects.
GSky Versa Wall™ has a recirculating irrigation system that is 100% water efficient and self-contained making the system suitable for any interior wall without the worry of spillage. The Versa Wall™ is naturally beautiful, eco-friendly, customizable, durable and economical offering flexible installation options and a variety of plant selections.
The green wall makes a strong statement that fashion can be trendy while still being green. INTERMIX provides a warm, welcoming and fashionable place to shop and by combining appreciation for unique style and nature together, INTERMIX has set themselves apart from other retailers.
About GSky Plant Systems, Inc:
Founded in 2004, GSky Plant Systems, Inc. is a leading provider of vertical green walls in North America. The business was founded based on the explosive growth of green technology, including green wall and roof systems in Asia. GSky currently offers three green wall systems, the Pro Wall™, Versa Wall™ and the Basic Wall™. Each system is unique in terms of design flexibility, installation location versatility, plant selection variety, desired size, cost, coverage time-line, and system components. GSky also offers a suite of services including maintenance, remote monitoring, and consulting as full-service contracts or à la carte. GSky strives to make plant systems more accessible and functional in urban environments while having a net positive impact on the environment. For more information visit us at http://www.gsky.com