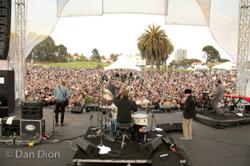 The Festival's stellar live music lineup spans 5 generations of inspired musical artistry featuring Devo, Mutemath, Shiny Toy Guns, and Family of the Year.
San Francisco, California (PRWEB) April 11, 2013
The Festival's stellar live music lineup spans 5 generations of inspired musical artistry featuring Devo, Mutemath, Shiny Toy Guns, and Family of the Year. Known for their highly entertaining stage show, the quintessential iconic 80's-alt group, Devo, shall "Whip It" to the audience, while the high energy, Grammy-nominated band, Mutemath, dials up their electronics, bluesy rifs, and psychedelic guitar sounds. The 4 original members of Shiny Toy Guns are together promoting the release of new highly-personal album, "III", and Family of the Year will surely please the crowd with their Hit song, "Hero", off their new album, "Loma Vista", released last year. Reduced "Early Bird" tickets available until April 21.
While the festival features an array of succulent oysters from a variety of oyster farms across the Pacific Coast, the family owned and operated Drakes Bay Oyster Company is a primary supplier of oysters for the festival. Embroiled in a fight to keep their historic farm's lease, it could potentially be the last year for festivalgoers to enjoy Drakes' award-winning oysters.
The Guinness Oyster & Music Festival boasts using a new ticketing agent with streamlined ticketing procedures, and more entrances to the festival to make access quick and easy. Short lines are ensured for scrumptious oysters and other food and drink with a major increase in the number of vendors at the festival. A free shuttle to the venue, free valet bicycle parking, and discounts with Ubercabs make getting to the festival easy and convenient. Myles O'Reilly, of O'Reilly's Pub and Restaurant in San Francisco and founder of the festival says, "Every year we try to make the festival better & this year will be one of the best oyster festivals to date. We try to make it easy for people to sample delectable oysters, hear great music, and enjoy a few cold ones." Kids under 12 are admitted for free with a parent.
The Guinness Oyster & Music Festival stands out among other Bay Area festivals because of its unique blend of live music, oysters and Guinness stout. Although oysters are king here, there's also a wide range of food from some of San Francisco's finest restaurants with an emphasis on providing healthy, local, and sustainable fare. A wide variety of beverages will also be available, ranging from wine, premium spirits, and of course beer --lots of cold lager ales, stouts, & black lager including Guinness, Harp, Black Lager, and Smithwicks, and more. With Guinness as a major sponsor this year, the Guinness Oyster & Music Festival offers even more attractions. These include the ever-popular oyster "Shuck and Swallow" competition, oyster cooking demonstrations, Oyster History Exhibition, and a Guinness Believer Expo.
In partnership with San Francisco Parks and Recreation, the festival supports San Francisco's goal of achieving zero waste. In addition to the alternative transportation options, all food and beverage containers will be compostable or recyclable --it's a truly green event.
Helping to operate this year's event are volunteers from The Leukemia & Lymphoma Society's Team In Training (TNT), which will benefit from a portion of the event proceeds.
Over half a million succulent oysters have willingly sacrificed themselves over the years to ensure the attendees a most pleasurable experience at the Guinness Oyster & Music Festival.