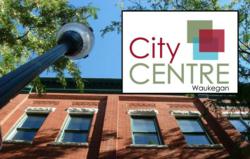 The First Annual Greater Waukegan Development Coalition Property Tour & Expo will showcase exciting new and historic spaces available for development in Waukegan's City CENTRE.
(PRWEB) October 08, 2012
On October 11, 2012, the Greater Waukegan Development Coalition kicks off its quest to rebuild and move Waukegan forward into the 21st Century. The event, with a tour from 1pm to 5:30pm and a reception from 5:30 pm to 7:30pm, will be held at the historic Genesee Theatre, 203 N Genesee Street in Waukegan.
ABOUT WAUKEGAN
Waukegan Illinois, founded in 1849 and the hometown of Jack Benny and Ray Bradbury, grew and thrived during the 20th century, becoming the 5th largest seaport on Lake Michigan. The city went through a period of decline but is ripe for revitalization.
Waukegan is perfectly located half way between Chicago and Milwaukee, and just minutes away from the Baxter International and Abbott Laboratories healthcare corridor. In 2003 the Waukegan City Council approved an aggressive Master Development Plan, focused on cleaning up the lakefront and connecting it with the historic downtown area.
Progress began, but was stalled by the recession. Then in early 2012, a group of business professionals formed the Greater Waukegan Development Coalition and reinvigorated the movement to revitalize Waukegan. Fortuitously, Lakefront Superfund cleanup projects have just begun and are expected to be completed in 2013.
ABOUT THE EVENT
The First Annual Greater Waukegan Development Coalition Property Tour & Expo will showcase exciting new and historic spaces available in Waukegan's City Centre.
City CENTRE Waukegan has available land located on the Shores of Lake Michigan with breathtaking Lake Views. The Historic Downtown area has a beautiful inventory of vintage buildings within walking distance to the Metra train station.
Participating organizations include: the Greater Waukegan Development Coalition, the City of Waukegan, and Waukegan Main Street. Additional confirmed attendees include bankers, architects, real estate agents, real estate investors, commercial real estate developers, and commercial real restate brokers.
The event is sponsored by First Bank of Highland Park, Design Studio C, Ltd.,Landscape Concepts Management, North Chicago Community Bank a Wintrust Community Bank.
As featured in the master plan, one of the Midwest's largest redevelopment plans, Waukegan includes over 1,400 acres in the greater downtown and lakefront area. There are huge opportunities for retail, corporate office space and headquarters, entertainment, recreation and housing.
The project was reinvigorated in March 2012 by the newly formed Greater Waukegan Development Coalition.
ABOUT THE GWDC
The Greater Waukegan Development Coalition is an ambitious, independent, not-for-profit organization with a mission to promote the development of real property throughout the Greater Waukegan Area.
The organization's initial Property Tour focus is on the City Centre, a combination of the 400 acre downtown space and 3.5 miles of Waukegan lakefront, which includes such recreational amenities as a full-service marina and public beach, with plans to continue these tours city wide and throughout the Greater Waukegan area.
The organization's goals for the event are: Foster at least one real estate transaction within six months that can be attributed to an attendee of the event. Provide a better impression of Waukegan and the opportunities for development and economic growth.
GWDC also provides or facilitates lectures, programs and events centered on business incubation, business retention and real estate development and/ or improvement.
As part of its mission GWDC intends to receive REO / Abandoned property and convert it back into property for use in the community. This could mean community gardens, as well as reverting obsolete built space into vacant property.
GWDC is working in collaboration with the efforts of the local government, the Chamber of Commerce and Main Street – bringing expertise in architecture, engineering, construction as well as real estate development and marketing services.