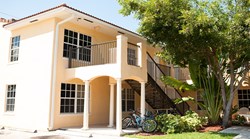 Nationwide Halfway House Placement Now Offered by the Best Halfway House Addiction Resource Network
Houston, TX (PRWEB) May 11, 2013
The Best Halfway House has just announced a new area they are providing halfway house placement services in the entire United States. The Best Halfway House will now help locate and find the best halfway houses in the major areas of the United States. They help find sober living homes for all of those in recovery and in need of a safe place to live. A great halfway house can make or break a person's early recovery from drug addiction, and the Best Halfway House is committed to providing the best transitional living homes for all of those in need.
By serving the entire country, the Best Halfway House will provide sober living in and around Chicago, New York, Los Angeles, Houston, San Diego, Atlanta, and other major cities. There are many different types of houses available, including pet friendly sober houses and structured sober environments.
The Best Halfway House is run by people who know the industry inside and out and are able to provide the best services to those in recovery, and keep the quality of care at the highest level.
The sober houses that the Best Halfway House select must meet certain criteria to be included in their network, which provide the best conditions for long term recovery. The houses must be clean and well maintained to even be considered, but that is not all. The houses must have structure and accountability measures in place, to ensure that the residents are on the right track in their recovery from alcohol and drug addiction. Some of the houses have pools and other nice amenities. All of the houses are located along public transportation lines and are close to 12 step meeting locations.
Halfway houses are sober living environments where people in recovery can live in a drug-free environment with other people on the same life track. The importance of choosing a good sober home cannot be overlooked, as it helps to set the foundation of a good lifelong recovery from drug addiction.
Alcohol and drug addiction is a huge problem in the United States and almost everyone knows someone personally who has has been affected by the disease. The Best Halfway House is responding to this addiction crisis by helping people continue their recovery in a safe and structured transitional living and halfway houses. Their main focus is on structured living through Intensive Outpatient Programs, that allow people in recovery to integrate the live skills they have learned in rehab and treatment in the real world.
Equally as important as a good place to live, is what one does with their life in recovery. The Best Halfway Houses can help with job placements in the area and even help their residents get back into school to complete their degree. It is even possible to go to extended care, also known as Intensive Out Patient, where the residents are able to continue their drug treatment therapy after leaving a residential treatment center. All of the sober living homes have house managers who are there to help the newer residents out in any way they can, including job placement and navigating the new world of recovery.
To learn more about the Best Halfway Houses, visit their website at http://besthalfwayhouse.com or give them a call at (800) 335-9720.