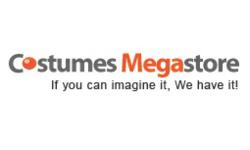 Costumes Megastore allows a person to order a Halloween costume online 24 hours a day, 7 days a week.
Miami, FL (PRWEB) May 14, 2012
Halloween costumes are worn on Halloween, a festival which comes in October and represents a joy for both, children and adults. Halloween costumes usually reflect people's thoughts and desires. One of the main things on Halloween is to go with the most interesting and original costume that no one else has.
Costumes Megastore is a store that specializes in Halloween costumes 2012, and they offer a variety of Halloween costumes for kids, teens and adults. They decided to partner with SEO Miracle, one of the leading SEO companies in the United States, in order to promote Halloween costumes for 2012.
Joshua Hood, CEO and a co-founder of SEO Miracle, expressed his satisfaction with this partnership, "Costumes Megastore is one of the largest retail stores that sells Halloween costumes and their line 'If you can imagine it, we have it' promises us a lot. We are hired to promote their Halloween costumes for 2012 and since the festival is celebrated across the United States traditionally, demands for an extra costume will be present."
Costumes Megastore allows a person to order a Halloween costume online 24 hours a day, 7 days a week. The highest sale is recorded in kids department, in the baby costumes category. Costumes Megastore also offers theme costumes from 20s, 50s, 70s and 80s along with animal, bug, classic, scary costumes and lots of others. All buyers will also be able to find costumes and party supplies on sale.
Joshua also added, "We take this project as serious as any other we had before, and will use our proven strategy in promoting Costumes Megastore's items online, and allow them to make big sales and create a database of solid, steady customers that will keep coming back every year."
If you would like to check out this season's Halloween costumes, visit Costumes Megastore website http://www.costumesmegastore.com, place an order online or call their phone number at (800) 387-0336.